Big Brother Spoilers: Why Nicole Anthony And David Alexander Are Their Own Worst Enemies Ahead Of Eviction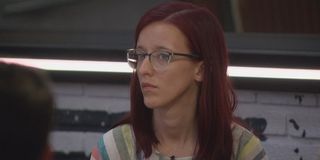 Warning! The following contains spoilers from the Big Brother All-Stars live feeds for the week of August 17. Read at your own risk!
When Memphis Garrett captured the Head of Household for Week 2 of Big Brother All-Stars, fans prepared for what seemed to be a painful week. Garrett seemingly had big plans for the nomination, but when his plan to nominate Ian Terry fell through and he defied the audience's expectation that he would nominate Janelle Pierzina and Kaysar Ridha, things got interesting. Now Nicole Anthony and David Alexander are fighting to stay in the house, but is that a solid strategy for either of them?
Live feeders watched both David and Nicole campaign following Memphis Garrett's decision not to use the veto, and so far, both are arguably making huge mistakes in campaigning. This eviction may just come down to who does the least amount of damage to their game, and at the present, it's really too close to call.
Nicole Is Convinced Janelle And Kaysar Are Out To Get Her
There is no one riding harder for Nicole Anthony to stay than Janelle Pierzina and Kaysar Ridha, but Nicole seems to be one of the only people in the house who doesn't believe that. Nicole has frequently mentioned she feels betrayed by Janelle and Kaysar and got so low Da'Vonne Rogers thought she may self-evict. Now she's back on top and campaigning to take them both down, despite the two bending over backward to get her votes.
Monday's feeds showed that Janelle Pierzina is aware that Nicole Anthony doesn't trust her, although it's unclear if she's aware of to what degree. Nicole is almost convinced that the people in her corner are secretly petitioning for David Alexander to stay, and the live feed audience knows that's simply not true. In fact, it even seems like the anti-Janelle players know, so where is this intel coming from?
Nicole Anthony's bad intel has come from Kevin Campbell, who told her that Janelle Pierzina and Kaysar Ridha are sabotaging her. Right now, It's not clear whether or not Kevin is setting Nicole up to be booted out of the house, or he just has a bad read on the situation. Regardless of what the situation is there, Nicole needs to stop trying to spin the house against Janelle and Kaysar, but it looks like she's ready to take this to the ultimate extreme.
Nicole Anthony, who was seen as an incredibly timid player in Season 21, is threatening to call a "house meeting" to lay all this drama out in the open. House meetings are often where the most drama happens in Big Brother All-Stars, and there's a feeling that Nicole will destroy her chances of staying if she attempts to out Janelle Pierzina and Kaysar Ridha as out to get her. Not to mention she'll be incredibly embarrassed once Julie Chen tells her the truth, should she be evicted this week. I've seen enough of Nicole playing to know the odds of her calling a house meeting are low, but if it does happen, prepare for fireworks.
Given the fact that Nicole Anthony is actively campaigning against her allies, one would think it wouldn't be hard for David Alexander to stay this week. Unfortunately, the "rookie" of Big Brother All-Stars has hurt his own case almost just as badly, to the point where he may end up driving votes he had locked before the veto away from him.
David Alexander Keeps Being Too Honest And Revealing Too Much
David Alexander has good reads on house dynamics and is about as honest as players come in Big Brother, but this game does not reward honesty. As the controversial Mike "Boogie" Malin would say, one can bounce checks in Big Brother, but apparently David didn't get that information from his past watching the series.
When Janelle Pierzina approached David Alexander after hearing Nicole Anthony didn't trust her, the two began to discuss what he could offer if she were to campaign for him to stay. David told Janelle that he was aware she was aligned with Memphis Garrett, and because of that, he considered her guilty of his nomination by association. Because of that, he said he could only guarantee her one week of safety if he stays, and that's it.
Now, to be clear, campaigning with a promise to gun for Janelle Pierzina isn't a bad move in Big Brother All-Stars, but you don't have to be so committed to that strategy you tell Janelle she's only safe for a week. David is a bit too honest about his intentions, and while that is a legitimate strategy that helps gain trust in the house, it's a move that will always work to one's detriment on the block.
It's also not a solid strategy if you're running around the house telling other people's secrets and exposing alliances. David Alexander did just that when he confirmed he was part of an all-men alliance to Da'Vonne Rogers and Bayleigh Dayton, who he was supposed to have a solid three-person alliance with. Da'Vonne was enraged by the intel, and David realized on Tuesday that he may have made a mistake revealing too much. It's a lesson learned the hard way, and thankfully for David, Bayleigh may be able to do enough damage control to get Da'Vonne back in his corner ahead of the vote.
So Which Player Is Playing The Worse Game?
Right now, it seems like David Alexander is safer in the house than Nicole Anthony, but there's still plenty of time before Thursday's vote. Both could still do considerable damage to their cases before the vote, and could definitely go home if they aren't careful.
Currently, it seems like a split house vote is on the way, but the numbers currently favor David Alexander on staying. If Nicole Anthony or anyone helping her can't secure a majority of votes ahead of Thursday, it's possible she'll lose even more in the hours ahead of the vote. This is a game of survival, after all, and no one wants to be person on the wrong side of a vote.
Big Brother All-Stars next airs on CBS (opens in new tab) Wednesday, August 18 at 8:00 p.m. ET. Continue to stick with CinemaBlend for the latest happening in the house, and for more news in television and movies.
Mick likes good television, but also reality television. He grew up on Star Wars, DC, Marvel, and pro wrestling and loves to discuss and dissect most of it. He's been writing online for over a decade and never dreamed he'd be in the position he is today.
Your Daily Blend of Entertainment News
Thank you for signing up to CinemaBlend. You will receive a verification email shortly.
There was a problem. Please refresh the page and try again.