Agents Of S.H.I.E.L.D.'s Ming-Na Wen Reveals Her Favorite Fight Scene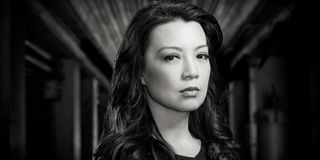 For seven seasons, Ming-Na Wen lit up the screen as Melinda May on Agents of S.H.I.E.L.D. May was tough and avoided feelings like the plague, but she had a soft spot where her team was concerned. And, of course, no one dared to get on her bad side lest she beat the shit out of them in a fight. Now that Agents of S.H.I.E.L.D. is over, Wen is reflecting on her favorite fight scene from the show.
The ABC series ended with May leaving the team behind to teach a new generation at S.H.I.E.L.D.'s Coulson Academy, so named in honor of Agent Phil Coulson. However, well before May traded in her combat boots for a tailored suit, May was part of an epic fight scene in the Season 2 episode "Face My Enemy," which Ming-Na Wen revealed as her favorite. The actress explained the reason for why it was so memorable to Looper:
The fight sequence in question involved the real Agent May facing off with her doppelganger Agent 33, a brainwashed Hydra agent. It's certainly different from many of the other fight scenes that Ming-Na Wen has had to do (in a dress, no less), and it's one of the reasons why I think it stands out for the actress and fans of the show. The choreography is stunning and it's just so full of energy. Plus, the fact that Wen chipped two of her teeth is wild.
Of course, Ming-Na Wen never dreamed that she'd be an action hero before she started working. Ironically, Wen studied Shakespeare in college and told herself that she would never do another action-based project after she finished filming Street Fighter. Flash forward to several years later and the actress is one of the best action heroes we have. Who knew she'd end up on a show where kicking ass was one of the primary directives?
Ming-Na Wen went on to say that working on Agents of S.H.I.E.L.D. was really the "biggest training" of her career despite her background in dance and martial arts. The show is where she really learned how to do stunt fighting, which Ming-Na Wen believes to be an art form unto itself.
Agents of S.H.I.E.L.D. wrapped its seven-season run last month and gave all of the characters their own version of a happy ending. Defeating the Chronicoms was bittersweet because it was indeed their final mission together. At the Coulson Academy, I'm sure that May is teaching the students all of her fighting skills. They didn't call her "The Cavalry" for nothing.
Agents of S.H.I.E.L.D. is currently streaming on Netflix (Seasons 1-6) and Hulu (select episodes of Season 7). For more on what to watch, be sure to check out our 2020 fall TV premiere schedule.
Your Daily Blend of Entertainment News
Thank you for signing up to CinemaBlend. You will receive a verification email shortly.
There was a problem. Please refresh the page and try again.