Big Brother Spoilers: Who Will Be Evicted Week 6?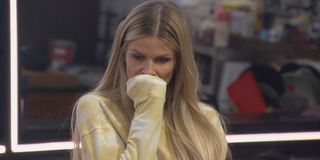 Warning! The following contains spoilers from the Big Brother All-Stars live feeds as of Wednesday, September 16. Read at your own risk!
Dani Briones' chaotic week as Head of Household is drawing to a close, and that means Big Brother All-Stars is losing another houseguest. Currently, it's a showdown between Ian Terry and Tyler Crispen to decide who will leave and become the first member of the jury house.
Who will be leaving in this crazy week that started with David Alexander and Kevin Campbell on the block? Things may still change before the Thursday vote, but as of now, Ian Terry looks to be the one heading out the door. Here's why that appears to be the case, what could save him (if people put in the work), and why keeping Tyler Crispen is basically a bad idea for everyone at this stage.
Dani Had A Plan, But Has All But Abandoned It
As I've written about previously, Dani Briones wanted to get out Tyler Crispen for the past two weeks. She finally pulled the trigger and almost immediately backpedaled when The Committee alliance questioned why they'd self-cannibalize. After Da'Vonne Rogers won the veto and removed Kevin Campbell from the block, Dani had no choice but to put up Ian Terry, who was the only remaining outsider in the house.
Ian Terry has been told he isn't the target this week, which hasn't sat well with Nicole Franzel. Ian was said to be one of her closest allies, but rather than attempt to save him, she's been told to lie to Ian and make him feel safe in order to protect Tyler. The goal seems to be to convince the entire house that Tyler is the target so that those who don't know he isn't may try and keep Tyler.
It's a weird tactic, and not very effective. In fact, it appears Ian Terry is pretty sure as of writing that he is the target up for elimination, though it remains to be seen whether or not there's anyone willing to do anything about it. Ian Terry certainly won't give up without a fight, but the question is growing about who he can or can't trust for a vote.
This Eviction Could Be The Easiest Vote To Flip This Season
The most exciting part about this week was that Nicole Franzel wanted Ian Terry to stay, and with three people outside The Committee able to vote, it's very possible to force a tie on Thursday. In that case, the decision would be on Dani Briones to break and she would have to decide to keep Ian Terry or Tyler Crispen. If it really comes down to a gut-check moment, it is possible that Dani could suddenly decide to evict Tyler.
As of now though, Dani Briones has explicitly told Nicole Franzel she would not break a tie in Ian's favor. Unless Nicole Franzel could find five people willing to keep Ian in the house, her hands are tied. Nicole has more or less resigned herself to the plan of lying to Ian rather than fishing for votes, which is a real shame because it wouldn't take much work for this to happen.
Enzo Palumbo has expressed quite a bit of interest to multiple people about keeping Ian Terry over Tyler Crispen, to the point that one would see him as a reliable fifth voter to tip the scales. Unfortunately, Nicole Franzel seems intent on not doing anything without Cody Calafiore signing off, and with him firmly against making any moves against Tyler, she's resigned to the likelihood that he's leaving the house.
The Bizarre Logic Of Keeping Tyler Crispen In The House
Some crazy stuff has happened in Week 6 of Big Brother All-Stars, but none of it is as crazy as the logic many are using to argue for Tyler Crispen staying in the house over Ian Terry. The biggest argument is that Tyler Crispen has a history of being a "comp beast," and will come in handy in the coming weeks to help eliminate the rest of the stragglers outside of The Committee.
The problem with this line of thinking is that Tyler Crispen hasn't won anything in Big Brother All-Stars minus one Head of Household, and has had several opportunities to do so. It's been an open secret that players tend to think his head isn't in the game, though anyone who watched Season 20 of Big Brother knows Tyler was never one who wanted to be the center of attention in the house. Maybe that's not the case, and if his head isn't in the game, can The Committee count on him to come through with wins when it matters?
And, if Tyler is playing possum, shouldn't that scare The Committee a bit more? Chances to get out power players don't come often, and letting Tyler off the block now may mean it's the last time he sees it until the end stretch. A lot of the people that feel safe with keeping him now could be gone the next time he's on the block, and that's not necessarily the case with Ian Terry. Typically self-cannibalizing is a bad strategy for any alliance, but when your numbers are this high already, why not take out a power player if you get the chance?
Additionally, The Committee would have to put out another fire all over again should Tyler Crispen get the Head of Household in the near future. Dani Briones has targeted him two consecutive weeks, so he'd be crazy to take her at her word that it wouldn't happen again. Tyler may not be as receptive to protecting Dani after this week, and once again the alliance is at risk of fracturing over this feud between two key players.
Then there's the other side of the house, where houseguests have discussed the possibility of voting to keep Tyler Crispen. Though they've gone back and forth, the logic of Da'Vonne Rogers, Kevin Campbell, and David Alexander is they could swing Tyler to an alliance with them if they save him from elimination. Of course, the odds of that happening are infinitely small, and at this stage, I'm not sure how any of those three think the majority alliance will flip to their side when they can survive another three weeks if all goes according to their plan.
Big Brother All-Stars Week 6 eviction happens on CBS Thursday, September 16 at 8:00 p.m. ET. Continue to stick with CinemaBlend for more on the season, and for the latest news happening in television and movies.
Mick likes good television, but also reality television. He grew up on Star Wars, DC, Marvel, and pro wrestling and loves to discuss and dissect most of it. He's been writing online for over a decade and never dreamed he'd be in the position he is today.
Your Daily Blend of Entertainment News
Thank you for signing up to CinemaBlend. You will receive a verification email shortly.
There was a problem. Please refresh the page and try again.