Alison Brie And More GLOW Stars React To Netflix's Sudden Cancellation After Three Seasons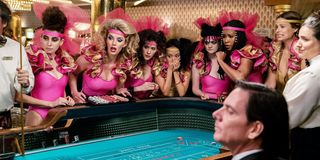 GLOW was in the midst of shooting its fourth season when the Hollywood-wide production shutdowns halted filming in March. Unfortunately, the popular Netflix series won't be returning to production like a myriad of other shows have in recent months, because the streaming service decided to cancel GLOW after three seasons, reversing its Season 4 renewal status. After the news dropped, Alison Brie, Marc Maron, and more GLOW stars understandably took to social media to react to the cancellation news.
Though GLOW fans were pumped to get another season of the body-slamming drama, which has been positively received each season by critics and fans alike, due to COVID-19 restrictions, delays, and production costs, among other factors. While creators Liz Flahive and Carly Mensch brought attention to the deadly pandemic in their reactions to the cancellation news, they also said that the cancellation "still sucks" in a joint statement, and I couldn't agree more. Series star Alison Brie also reacted to the news, posting a few photos alongside a caption to Instagram. Take a look!
The Community alum and the rest of the incredible cast look so happy in each of these photos and it makes me sad to think that viewers will probably never get to see them in the wrestling ring for more episodes. Like Alison Brie, many viewers will also miss GLOW, its stellar ensemble, and probably the fantastic '80s costumes as well.
It sure seems like the cast was pretty close and relished in playing these characters, and Rich Sommer is definitely part of that squad. The actor took to Twitter to express his gratitude for being a part of GLOW, and he was especially complimentary of Betty Gilpin, who played his onscreen wife.
So, who's going to put these two in another project together? I'll be waiting with baited breath to see what these and other GLOW cast members will get up to next.
Meanwhile, series star and comedian podcaster Marc Maron's reaction to the cancellation news is somewhat apologetic, though straight to the point.
I agree with him, it really does "stink." Now all I'm thinking about is everything the creators planned for Season 4 that viewers (and the cast) will miss out on, and it's just sad, man. The show introduced fans to some awesome characters and actors, including Shakira Barrera, who joined GLOW in Season 2 as Yolanda "Junkchain" Rivas. The actress was thankful to have been a part of the Netflix show and addressed co-creator Liz Flahive in particular.
Rebekka Johnson shared several images of the cast and wrote a lengthy caption that conveyed not only her gratitude for being a part of a "dark, diverse, feminist show" like GLOW, but also how being cast helped her fulfill her dreams. Check out her post below!
Finally, Britt Baron posted a photo of GLOW's cast to Twitter with a simple caption, and then shared the same photo (and several others) on Instagram with a longer heartfelt post about what the show meant to her, and her devastation over its cancellation.
GLOW's fourth season was supposed to be its last, but now we'll never fully know how the characters' journeys would have ended. It's a hard pill to swallow, in my opinion, and it's made even worse knowing that this isn't the first series to be cancelled after receiving a renewal. No more cancellations, Netflix!
You can still watch (or rewatch) all three seasons of GLOW on Netflix. For more viewing options, be sure to check out our 2020 fall TV premiere guide.
Your Daily Blend of Entertainment News