Netflix's Unsolved Mysteries Producer Is Optimistic One Case Could Get Solved With Audience Help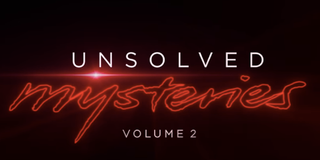 Light spoilers ahead for Volume 2 of Netflix's Unsolved Mysteries.
Unsolved Mysteries has been around for a long time, with the original batch of episodes airing on NBC before it began network hopping. The series has also been on CBS, Lifetime, and Spike since its debut in the 1980s, and now it has come to streaming. Netflix revived the docuseries and has begun releasing new episodes. Now that Volume 2 has premiered on the streamer, Unsolved Mysteries producer Terry Dunn Meurer says she's optimistic about one particular case getting solved with an assist from viewers.
One of the great things about series like Unsolved Mysteries is the audience's passion for the cases. With the docuseries' revival at Netflix, it certainly brings more eyeballs to the cases and that's exactly what brings Terry Dunn Meurer hope. The more viewers are engaged with and aware of the cold cases, the higher the probability may be for them to be solved. In that vein, Meurer already has one specific mystery she's hoping will be put to rest. Here's what she told Esquire:
The Death Row Fugitive case is featured in Volume 2 of Unsolved Mysteries and follows Lester Eubanks' murder of Mary Ellen Deener in 1965. Eubanks admitted to the crime and was given the death sentence. Eubanks ultimately disappeared in 1973, after being released from death row to a state penitentiary in Ohio, and no one has been able to find him since.
A lot of these cold cases hit a dead end and I think it so often feels futile to continue looking for clues in the hopes that new evidence will crop up. That said, Terry Dunn Meurer certainly believes the Death Row Fugitive case is the most likely to be solved. She has a whole list beyond that one case, too. In her words:
Who knows? Maybe viewers will call in tips about the case after they've seen the episodes. Whether the Death Row Fugitive case and other unsolved mysteries will get resolved remains to be seen, but Terry Dunn Meurer will keep hoping for the best in the meantime.
Unsolved Mysteries Volume 2 is currently streaming on Netflix, with six new episodes to dive into. For more on what to watch, be sure to check out our 2020 fall TV premiere guide.
Your Daily Blend of Entertainment News