Why Netflix Cancels So Many Shows After Only One Season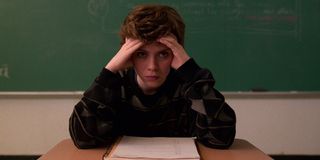 Netflix has cancelled a lot of shows this year, including GLOW and The Society, both of which had previously received season renewals. Even beyond just 2020, however, the streaming service has garnered a reputation for cancelling series after only one season — I Am Not Okay with This, Spinning Out, and Away were among the ones to get cut this year alone. Thankfully, at least in theory, Netflix's Global Head of TV Bela Bajaria has explained why the streamer cancels freshman series at such a high rate.
When compared to network and cable TV channels, Netflix comes off as an enigma of sorts. Whereas viewers can easily check up on, for example, CBS and NBC shows' ratings to predict chances of renewal, Netflix doesn't release the viewing numbers for every one of its shows (and the way in which the views are counted has been called into question). In addition, Netflix execs tend to greenlight a lot more series than traditional networks without the traditional pilot process, which Bela Bajaria says plays a role in the number of cancellations. Here's what she said during the Paley International Council Summit (via Deadline):
Netflix making straight-to-series orders for every original show was already an unusual tactic when it began, since TV networks have historically ordered test pilots before making decisions to pick up more episodes of particular series. In that vein, Netflix does greenlight a lot more original series per year compared to any single broadcast network or cable channel, which, as Bela Bajaria says, results in more cancellations after just one season.
Bela Bajaria added that the renewal rate for Netflix shows after two or more seasons is reportedly 67%. She cited The Crown and the comedy Grace and Frankie as examples of Netflix series that have been renewed for multiple seasons. That said, I'd argue that the number of series that actually get to have two seasons or more seems to be increasingly rare, and that Bajaria's response doesn't directly address criticisms of the growing number of Netflix's one-and-done series.
I also don't think it helps that some Netflix subscribers have grown wary of becoming too attached to the service's original series in their first seasons, since the fear of cancellation always seems to be hanging in the air. Despite all of this, Netflix boss Ted Saranados cited the reason the streamer is judged so often by its cancellations is because it's being "measured against the old way of doing things." He, on the other hand, believes a show can be successful even if it only got one season.
While the list of cancellations continues to grow at Netflix, The Umbrella Academy and Emily in Paris were both renewed recently for third and second seasons, respectively. There are still plenty of shows coming soon to Netflix, so be sure to check out our 2020 premiere schedule.
Your Daily Blend of Entertainment News
Thank you for signing up to CinemaBlend. You will receive a verification email shortly.
There was a problem. Please refresh the page and try again.