CNN's Jake Tapper Had The Best Time Defending Baby Yoda's Gross Mandalorian Moment On The Internet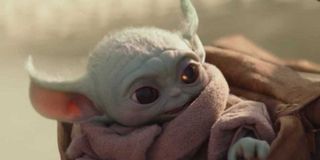 Baby Yoda (or The Child) has been a major topic of discussion since he made his Star Wars debut on The Mandalorian last fall. Fast forward to a year later and, now, the adorably powerful alien is making headlines for another reason. In a recent episode of the show, the Child was munching on a few eggs belonging to the "Frog Lady." The development drew mixed responses and has led to a debate on social media, which is drawing in some pretty big names. Now, CNN's Jake Tapper is the latest to voice his thoughts, and he's all in on defending Baby Yoda from the controversy.
Jake Tapper, who's shown his Star Wars fandom on more than a few occasions, used a few Twitter posts to show support for Baby Yoda. In his original message, he mentioned seeing a post about the "Baby Yoda Egg Eating Scandal," which spurred him to give some pretty honest thoughts:
The message drew a number of responses, with one user saying that they were "appalled" by Baby Yoda eating the eggs belonging to an endangered species. However, Jake Tapper was quick to point out two key facts about Frog Lady:
Jake Tapper makes good points, especially when it comes to Frog Lady not even noticing that some of her eggs were missing. Still, this hasn't stopped others, like PETA from commenting on the matter. The organization put out a message on Twitter in which it encouraged Baby Yoda not to eat eggs. Tapper retweeted this post with a cheeky response of his own:
Like many fans, Tapper just loves Baby Yoda, and it seems fans love that Tapper loves Baby Yoda. With this, the CNN correspondent retweeted a sweet post from a fan and further voiced his support for the extraterrestrial tyke:
The opinions on Baby Yoda's eating habits have been interesting to hear. Star Wars alum Daisy Ridley stated that Baby Yoda has to eat. She also pointed out that Frog Lady did make it to her destination safely with plenty of eggs in tow. Phil Szostak, Lucasfilm's senior content and asset specialist, also defended the baby's actions. He notes that the Child's consumption of the eggs is meant to be "intentionally disturbing, for comedic effect." He also argued that fans of the horror genre know there are scenes that can make us both laugh and squeal.
One thing we can all agree on is that Baby Yoda's appetite has definitely been growing as the series has progressed. From frogs to spiders, there doesn't seem to be anything he won't eat at this point, and he's even willing to use his Force abilities to get it. Hopefully, this doesn't get him and Mando into too much hot water as they continue their quest to find the Jedi.
Be sure to check out new episodes of The Mandalorian when premiere Fridays on Disney+.
Covering superheroes, sci-fi, comedy, and almost anything else in film and TV. I eat more pizza than the Teenage Mutant Ninja Turtles.
Your Daily Blend of Entertainment News
Thank you for signing up to CinemaBlend. You will receive a verification email shortly.
There was a problem. Please refresh the page and try again.