The All American Cast On Instagram: Who To Follow And Where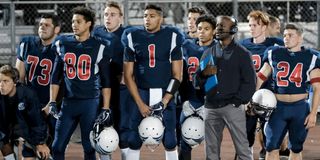 There are few current television shows that have been more of an underdog story that The CW's sports drama All American, which despite not bringing in large numbers for the network, became a streaming juggernaut when the show's first two seasons were added to Netflix's library. With an inspirational story based on the upbringing of former NFL linebacker Spencer Paysinger and a phenomenal cast of established stars and newcomers alike, it's safe to say the upcoming third season has potential to take everyone to the next level. Speaking of which, as we look toward the new campaign from the series, now's the perfect time to catch up with the All American cast on Instagram.
Why Instagram? Well, now more than ever before, celebrities are making the most of their social media outlets to spread word about shows like All American or, like Taye Diggs did in fall 2020, provide up-to-date information on the production process, especially while dealing with COVID-19 health and safety protocols. Here is where you can find Diggs and the rest of the All American cast on the popular photo-based social channel.
Daniel Ezra (Spencer James)
Daniel Ezra, who stars in All American as star wide receiver caught between two worlds, Spencer James, isn't the most active member of the cast when it comes to Instagram. When he does, however, Ezra tends to use the platform to not only promote the show (which returns for Season 3 in January 2021), but to spread awareness about issues close to his heart. Whether he's discussing issues pertaining to police brutality, race relations, and even mental heath, Ezra provides his one million followers with honest and thoughtful conversations about the world outside of the show.
Follow Daniel Ezra On Instagram @danielezra
Check Out His Other Socials Here: TikTok
Taye Diggs (Billy Baker)
If you want to see a ton of behind-the-scenes footage from the set of All American Season 3 then a quick follow of Taye Diggs' Instagram account is the place to go. Ever since production resumed following the October 2020 temporary shutdown following a positive COVID-19 case on set, the actor who plays Beverly Hills High School football coach Billy Baker has been a constant source of hilarious videos about making the most of the health protocols throughout production.
Follow Taye Diggs On Instagram @tayediggsinsta
Check Out His Other Socials Here: Twitter, TikTok, Facebook
Bre-Z (Tamia "Coop" Cooper)
Bre-Z, the American rapper and actress who portrays Tamia "Coop" Cooper on All American, is another member of the cast to boast a large number of followers (1.1 million to be exact). Those followers see everything from Bre-Z's thoughts on social issues, promotion of her music career, and shoutouts to her cast members from the hit series. There are also Instagram Reels and IGTV videos that further welcome the actress's fans into her life.
Follow Bre-Z On Instagram @brezofficial
Check Out Her Other Socials Here: Twitter, TikTok, Facebook
Greta Onieogou (Layla Keating)
Greta Onieogou, who plays Layla Keating, the love interest of series lead Spencer James on All American, shares an assortment of perfectly composed shots of the actress in places like her spacious home, random flower gardens, and plenty of shots of the Pacific coast. In addition to all of those, Onieogou also has posts dealing with the fight for equality in America as well as speaking out against injustices around us.
Follow Greta Oniegou On Instagram @greta.oniegou
Check Out Her Other Socials Here: Twitter, TikTok
Samantha Logan (Olivia Baker)
Whether she's encouraging people to get out and vote in elections, talking about her children-centric podcast, or talking about the significance of Juneteenth, Samantha Logan is using her Instagram account for the greater good. The actress, who portrays Olivia Baker on All American, posts multiple "stories" to her account as well as an in-depth IGTV conversation about the Black Lives Matter movement.
Follow Samantha Logan On Instagram @_samanthalogan
Check Out Her Other Socials Here: Twitter, TikTok
Michael Evans Behling (Jordan Baker)
With a variety of behind-the-scenes footage and promotional videos for All American as well as general lifestyle posts, Michael Evans Behling, who portrays Jordan Baker on The CW drama, provides his followers with a positive and immersive experience. This in-depth look at the actor's life on and off the set is enlightening to say the very least.
Follow Michael Evans Behling On Instagram @michaelb05
Check Out His Other Socials Here: Twitter, TikTok, Facebook
Cody Christian (Asher Adams)
Cody Christian, who has a whopping 4.8 million Instagram followers, uses the platform to share photos like the recent throwback from the set of MTV's Teen Wolf as well as on the set of All American, where he currently portrays Beverly Hill High School wide receiver Asher Adams. This interesting and eclectic collection of images opens the doors to how the actor spends his time when not on a hit television series.
Follow Cody Christian On Instagram @codychristian
Check Out His Other Socials Here: Twitter, TikTok
Karimah Westbrook (Grace James)
Karimah Westbrook, who portrays Spencer's mom, Grace James, on All American, typically uses her Instagram account to share information about the show and cast members. The actress also uses the platform for things like paying tribute to Chadwick Boseman following the late actor's August 2020 death as well as some hilarious and uplifting notes about remaining positive in a time when we need it the most.
Follow Karimah Westbrook On Instagram @only1karimah
Check Out Her Other Socials Here: Twitter, TikTok, Facebook
Monét Mazur (Laura Fine-Baker)
Monét Mazur plays Laura Fine-Baker, the wife of Taye Digg's Billy Baker on All American, and she uses her Instagram account to spread word about the show, especially with Season 3 right around the corner. With shots taken around her home, on the Warner Bros. backlot, and even of the books she's reading, Mazur welcomes her more than 230,000 followers into her life nearly every day.
Follow Monét Mazur On Instagram @monetmazur
Check Out Her Other Socials Here: Twitter, TikTok
Jalyn Hall (Dillon James)
Jalyn Hall, who plays the younger brother of series lead Spencer James on All American has an Instagram account that is maintained by his mother considering his young age. Still though, he posts quite a bit about his music career, life on the set of The CW's hit sports drama, and other stuff you'd expect from a young teenager.
Follow Jalyn Hall On Instagram @jalynemilhall
Check Out His Other Socials Here: Twitter, TikTok
Chelsea Tavares (Patience)
In recent months, Chelsea Tavares, who recently became a series regular on All American, has posted beautiful and honest photos of herself preparing to become a mother. Prior to announcing her pregnancy, the actress posted about things like voicing a character in The Last of Us Part II, scenes from life before the pandemic, and a variety of other images.
Follow Chelsea Tavares On Instagram @chelsearoycetavares
Check Out Her Other Socials Here: Twitter
And that is just the main cast of All American and their Instagram accounts. There are also people like Safety's Jay Reeves, who played the tragic character of Shawn Scott, Hunter Clowdus, who plays JJ Parker, and dozens of other actors from the show with active social media accounts.
Philip grew up in Louisiana (not New Orleans) before moving to St. Louis after graduating from Louisiana State University-Shreveport. When he's not writing about movies or television, Philip can be found being chased by his three kids, telling his dogs to stop yelling at the mailman, or yelling about professional wrestling to his wife. If the stars properly align, he will talk about For Love Of The Game being the best baseball movie of all time.
Your Daily Blend of Entertainment News
Thank you for signing up to CinemaBlend. You will receive a verification email shortly.
There was a problem. Please refresh the page and try again.