Why Shooting In Front Of A Live Audience Is Important, According To Netflix Star Gabriel Iglesias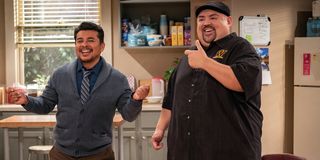 Netflix hit Mr. Iglesias starring Gabriel 'Fluffy' Iglesias is insanely good, and that is due in part to filming in front of a live audience. The series has a fantastic writing team and a stellar cast, and the audience is the final piece that makes everything work so well. I got to chat with Iglesias for an interview with CinemaBlend and he shared why the live audience is so important to him.
The fact that Mr. Iglesias is one of my favorite shows is a pretty big deal, because I'm usually way more into drama. I feel like sad things are pretty universally agreed upon, but when it comes to whether or not something is funny, that's more opinion based. Everyone has a different sense of humor, so it seems to me like comedy would be harder than drama, but here's what Gabriel Iglesias said when I asked him:
Knowing Gabriel Iglesias has his background in doing stand up comedy, it makes sense that he chose sitcom style. I'm glad we can thank the studio audience for getting rid of any jokes we may not have liked. That being said, Iglesias also mentioned a very real rant that ended up on the show, and I was curious how much the cast gets to improvise. Iglesias has a great rule of thumb, and here's what he told me of going off book:
It sounds like this cast and crew has a lot of fun together, and that definitely comes across on screen. I wouldn't say that Mr. Iglesias is line-by-line funny, because the characters have natural conversations and sometimes the topics aren't funny, but for sure scene-by-scene. This is a set I would love to visit.
Expanding upon the live audience aspect, Gabriel Iglesias shared that where he draws energy from that, for others it can be nerve-racking. Imagine getting in front of people for anything, even if your lines are pre-written, and not getting the desired reaction. That has to be stressful. But of course, having fun with it is the key. Iglesias said:
Seriously, the Mr. Iglesias set sounds like a dream job. If you haven't checked out the Netflix series yet, head on over to Netflix (opens in new tab). CinemaBlend has plenty of recommendations for your next streaming session, including these comedies, these TV dramas, and these sexy thrillers.
Obsessed with Hamilton and most things Disney. Gets too attached to TV show characters. Loves a good thriller, but will only tolerate so much blood.
Your Daily Blend of Entertainment News
Thank you for signing up to CinemaBlend. You will receive a verification email shortly.
There was a problem. Please refresh the page and try again.