This Is Us: Why Beth And Randall Are One Of The Best TV Couples Ever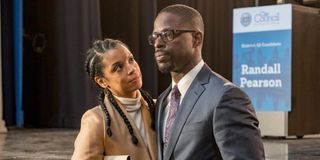 This Is Us is one of those shows that you watch and always seem to find something you can relate to. When I first began watching way back in 2016 when it premiered, I found myself connecting to Randall Pearson the most, specifically for two reasons. One was that his parenting style reminded me so much of my own father, and how no matter what, my father always stuck by my side. The second was his wife, Beth, and the beautiful relationship that these two share.
TV couples have been a primetime staple ever since television was born way back in the mid-1900s, but I will always say that Randall and Beth are one of the healthiest and most loving relationships that I have ever seen portrayed on TV, for multiple reasons. It doesn't help that Sterling K. Brown and Susan Kelechi Watson have amazing chemistry on screen, so much so that it makes you believe that their love is so real.
Until This Is Us ends, and even after, they're always going to be one of my favorite couples, and if you're a fan of the show, why they should be yours too. These are the reasons why.
Spoilers from This Is Us ahead!
Randall Supported Beth's Career Change To Follow Her Dreams
When Beth told Randall back in Season 3 on This Is Us that she wanted to return back to her former passion of dance instead of trying to find another office job after she is fired, Randall isn't one to quickly turn that away.
In fact, he fully embraces her and tells her that he will do whatever he can to try and support her when she becomes a dance teacher at a prestigious dance studio. Other husbands might not be so supportive at such a sudden career change.
And Beth Supported Randall When He Wanted To Move To Philadelphia And Become A Councilman
Let's all agree that Randall's desire to change the city of Philadelphia for the better held good intentions, but obviously, that is something that can't be taken very lightly. They had to uproot their whole family and move to a place that is very unfamiliar to them.
Beth could see that Randall wanted to make a difference, but no matter what, she stuck by his needs, as long as they had a solid plan as to what they were trying to do.
Beth Is Always There For Randall Through His Anxiety Attacks Despite Knowing How They Begin
For years on This Is Us, Randall has experienced multiple times when the perfectionism that has always run through him has overwhelmed him. This has happened when he was a child, a teenager, and very well into his adult years. But even when Beth can see that one is coming on, she doesn't roll her eyes and think "god, another one of these again."
She is there for her husband and tries to talk him through it rather than running away, such as suggesting a therapist or urging him to take a break from certain things. She looks out for him no matter what because she knows he's a good man and deserves the world, but sometimes his goodness can be overwhelming to his own psyche.
Even When Fighting, Randall And Beth Talk It Out Instead Of Running Away
Was their little spat in Season 3 the worst time of my life to be watching This Is Us? Yes, because I hated seeing them fight. However, couples fight all the time. While some let the fights consume their lives and overtake them, Randall and Beth duked it out, saying how she felt that she was tired of trying to hold the family together whenever he had a big change in his life and that she wanted the chance to change for once.
It really sat with Randall and helped him understand why she wanted to follow her dream again. If couples keep things locked inside of them for so long, it'll eventually explode. While I wouldn't say this fight was explosive, it was most certainly needed and prevented a lot of problems down the line.
They Love Each Other Completely, Flaws And All
Again, multiple times throughout This Is Us, we see them at their worst. Beth stuck by Randall when he was having trouble with his family back when his adoptive father, Jack, had just died back in college. Randall always had Beth's back, like when she was trying to grow a connection to Deja way back in season one. They love each other no matter what and will always have each other's back.
Beth Is Welcoming To Randall's Family
Not only was Beth welcoming to William – Randall's estranged biological father - living in their home – basically a stranger at that point to their children – she developed a connection with him. She even ate a pot brownie with him. I mean, come on. Best daughter-in-law right there.
They Make Intimacy A Priority In Their Lives
I mean, Beth and Randall have two children on This Is Us so obviously they've gotten it on but in general, they always make sure they are taken care of, both mentally and physically.
There have been multiple instances where their friends and family have even called them out for it because of how in love with each other they are. It's so sweet and amazing to see a couple so in love.
Beth Supported Randall's Want For A Foster Child
Randall's interest in adopting a foster child was another big life change for them. A huge one. To suddenly want to bring another child into the home, to care for them, to pay for them, to give them a better life, that is an incredibly different atmosphere than before.
But Beth talked it out with Randall, deciding that it was better to foster a child rather than adopt one, and now, they have Deja three seasons later on This Is Us as their official adopted daughter.
They're Not Afraid To Tease Each Other
I think a big part of why I love Randall and Beth on This Is Us so much is that they aren't afraid to tease the other. When you've been married to someone for so long, even just in a partnership or a simple relationship, one has to learn how to take a joke properly, as no one can be serious the whole time.
That's what makes their love so great, because not only are they not afraid to be themselves around the other, they constantly tease each other. One of my favorites is Beth's most recent tease of his little strip show on his livestream from his councilman office. That was hysterical.
Beth And Randall Can Be Themselves Around Each Other, No Walls Needed
What's so amazing about their relationship on This Is Us is that Beth and Randall can be themselves completely. There isn't any hiding of what they want or secrets that they keep. I can't recall a time where either didn't have a problem with the other that they didn't directly address. They're truly there for each other through thick and thin and they show it.
Ever since they had met and dated, they had worked off of each other's backs to get where they are in life, knowing that if they could get through anything together, it was worth it. And now, years later, they're still a team.
No matter what, Beth and Randall are the OP couple, and no one can change my mind. You can stream This Is Us on Hulu here (opens in new tab).
Big nerd and lover of Game of Thrones/A Song of Ice and Fire. Will forever hate season eight. Superhero and horror geek. And please don't debate me on The Last of Us 2, it was amazing!
Your Daily Blend of Entertainment News
Thank you for signing up to CinemaBlend. You will receive a verification email shortly.
There was a problem. Please refresh the page and try again.