Could That '70s Show Get A Revival From Disney? WandaVision's Debra Jo Rupp Gives The Most Marvel Answer Possible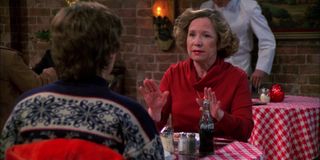 With her return to TV screens in Marvel Studios' WandaVision, That '70s Show vet Debra Jo Rupp was given another platform to display her comedic timing and sparkling wit, and her big scene in the first episode, "Filmed Before A Live Studio Audience," showing the cracks in the foundation of Wanda Maximoff's not-so-perfect bubble universe. Of course, Rupp jumping back into a sitcom format – no matter how weird or creepy the happenings of that world may be – will no doubt have fans wondering if she'll ever return to the memorable role of Kitty Forman. Well, we asked her, and though she played it coy with an answer so evasive that only a Marvel star could deliver it, it still sounds like good news may be on the horizon, as seen in the video above.
During my sit down with WandaVision's Debra Jo Rupp on behalf of CinemaBlend, I had to ask whether or not she'd heard anything about a That '70s Show revival, what with the project officially in the Disney portfolio these days. As there were revival rumblings from other cast members in the time before Fox and Disney merged, it couldn't hurt to see if there was a positive status update, or if fans should just shelve their excitement for the time being. Of course, even if a revival was a possibility, Rupp might not even want to slip back into the role of the mostly cheery wife opposite Kirkland Smith's curmudgeonly Red. After all, during that same conversation, she told me she wanted to be offered more villainous roles in her career.
However, Debra Jo Rupp gave a single answer to both questions of whether she'd heard anything about a '70s Show comeback, and whether she'd want to be a part of it. In her words...er...word:
That may just be a one-word answer, but Debra Jo Rupp's delivery of that "Yes" was something for the ages. As soon as I'd finished asking my question, the actress paused and gathered herself to deliver an answer. Even in the way she actually said the word, it felt like her Marvel training had paid off, as she spoke in a very tentative manner; as if to not disrupt the calm of a Disney NDA hiding in the shadows. And we much prefer a super-brief confirmation than wordy evasiveness, which is also in the Marvel interview playbook
Joining WandaVision opened the door to a new world the actress had never been a part of before. Prior to taking the Disney+ gig, Debra Jo Rupp wasn't Marvel fan, and she wasn't familiar with the MCU and its various heroes. But after her great nephew insisted that he'd never talk to her again if she didn't take the role of Mrs. Hart (later revealed to be one Sharon Davis), Rupp set up a future of signing off on scripts that she'd be reading in the privacy of a hotel room. But as different as this experience was, WandaVision features a strong sitcom approach in its DNA, which is right in Rupp's wheelhouse.
For the most part, the sitcom shooting process on WandaVision wasn't all that different from That '70s Show or any other garden variety half-hour comedy that you'd find on TV. But as the MCU series was designed to echo certain eras of sitcoms through various episodes, and went to insane lengths to do so, there were some noted differences that came up here and there. Debra Jo Rupp recalled one such factor, saying:
Still, a live studio audience is something that, while far rarer in our modern sitcom world, still brings out the performer in anyone that gets opportunity to engage in it. As Debra Jo Rupp got to return to that very mode of filming, after all of the experience shows like That '70s Show had given her in that particular medium, it set her up for a very warm feeling:
So if you're a That '70s Show fan that's been watching WandaVision and hoping that Kitty Forman and the rest of the gang might show up on your screens in the future, you might be closer to that day than you think. Of course, in true Disney/Marvel fashion, we have no clue what's going on just yet, so we'll just have to wait and see what the future will bring. Hopefully it can bring That '70s Show back to a streaming platform, also.
At the very least, someone in the Loki writers room should consider giving Debra Jo Rupp a role that has her playing a very beguiling but absolutely gleeful villain, as it would be an absolute shame for her career in the MCU not to go further beyond WandaVision. That is, unless she's too busy with a That '70s Show revival.
Senior Movies Contributor
CinemaBlend's James Bond (expert). Also versed in Large Scale Aggressors, time travel, and Guillermo del Toro. He fights for The User.
Your Daily Blend of Entertainment News
Thank you for signing up to CinemaBlend. You will receive a verification email shortly.
There was a problem. Please refresh the page and try again.