Why It's OK Chip And Joanna Gaines' First Renovation On Fixer Upper: Welcome Home Was A Mess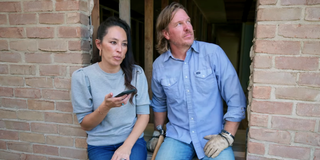 Fans of home renovation experts Chip and Joanna Gaines are very glad to have the couple back on their TV screens with their new show, Fixer Upper: Welcome Home. While the return of the popular couple was just announced in August, so viewers didn't have long to wait for the premiere on Discovery+, the design duo decided to leave their successful run on HGTV back in the fall of 2017, and fans have had to go a while without watching them on a weekly basis. The debut did feature a whopper of a house to fix up, but Joanna Gaines has opened up about why it's alright that the property was a "complete mess."
Now that Chip and Joanna Gaines have returned to TV in a major way with Fixer Upper: Welcome Home, audiences are getting a good look at how they've been spending some of their work time while not setting up a entire network. If you saw the premiere on Discovery+ (the series will be on their Magnolia Network when that finally debuts), you'll know that the first home they worked on for a recently engaged couple was in less than optimal (or even neutral) shape when they found it. Joanna Gaines took to Instagram with some before and after photos, and talked about why they don't mind working on such projects:
Oh, OK. That makes a lot of sense, right? I hadn't really thought about it before, but seeing as how one of the main things that people enjoy about home renovation shows is watching what is essentially trash get turned into treasure, that reveal will be even more impressive if the original property is in some pretty bad shape when Jo and Chip take it on.
I mean, sure, we all love looking at all the fancy new appliances, counter tops, and other design elements all on their own. And, it's also a pleasure to see what they manage to keep and simply update or what has to be radically changed. None of those things are quite as big of a deal, though, without the full context of where the whole house started. And the property on the debut of Fixer Upper: Welcome Home was deceptively unkempt, as you can see from Joanna Gaines' full post, below:
The outside of the house, for instance, simply featured some overgrown landscaping and a plain brick facade, neither of which seem like that big of a deal to spruce up. But, if you take a look at the second photo in Gaines' post, you'll see what the kitchen looked like before they began. While small and kinda dark are issues for most people when it comes to the spot where they'll do all of their cooking, I will also direct your eye to the refrigerator on the right side of the picture, which is positively dripping with something absolutely grody, that I just know must have gotten all over the floor.
Meanwhile, the fourth photo, which is of one of the home's bedrooms, shows the kind of state people leave things in when they abandon a house sometimes. I can't even imagine why all of that would be shoved into one room. If you're leaving a bunch of junk behind in a house, wouldn't you just leave it in whatever room it was in and not go through the trouble of moving it all? The last picture is of a bathroom, and I kid you not when I say that I can barely look at that tub without getting the dry heaves. Though, I am envious of that two-closet situation in the bathroom.
As Joanna Gaines said, this made for a fantastic reveal for viewers and a great first home for their clients, and I'm sure Fixer Upper: Welcome Home will be able to bring us more great renovations during Season 1. Episodes from the new series will be available on Discovery+ until Magnolia Network launches later in 2021.
Bachelor Nation, Gilmore Girl; will Vulcan nerve pinch pretty much anyone if prompted with cheese...Yes, even Jamie Fraser.
Your Daily Blend of Entertainment News
Thank you for signing up to CinemaBlend. You will receive a verification email shortly.
There was a problem. Please refresh the page and try again.