Agatha Harkness: 5 Marvel Movies Or TV Shows She Could Show Up In After WandaVision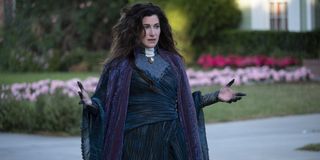 Spoilers for the WandaVision finale -- "The Series Finale" -- lie ahead.
The Marvel Cinematic Universe has only just kicked off Phase Four, but it's already added a number of interesting new concepts and characters to the sprawling franchise. One of the new faces fans met via Disney+'s WandaVision is the delightfully evil Agatha Harkness, played by the one and only Kathryn Hahn. The centuries-old witch sought to challenge Wanda Maximoff and discover the secrets of her powers but, in the end, she was unsuccessful. Agatha was left in a pretty interesting situation, though there's definitely a firm chance she could appear in more MCU movies or TV shows in the near future.
After her defeat at the hands of newly established Scarlet Witch Wanda Maximoff, Agatha Harkness was spared by the Avenger. Harkness was, however, locked into the town of Westview and placed into her role as Agnes, the nosy neighbor Wanda befriended. Hardcore comic book fans likely know Agatha has a rich history in the comics and, since she was left alive -- more or less -- after WandaVision, there's plenty of opportunity for her to pop up again in the MCU. So let's discuss a few upcoming Marvel productions that would be perfect for Kathyrn Hahn's fan-favorite villain:
Doctor Strange In The Multiverse of Madness
The upcoming Doctor Strange sequel is probably the most obvious choice when it comes to potential places for Agatha to return. Because she hails from the magical corner of the MCU, it would be easy to think she could find a role in the Sorcerer Supreme's next adventure. While we don't know many story details at this point, the title indicates that things could get unpredictable, since the multiverse is coming into play. Of course, there's one specific element (more specifically one person) who could bring Agatha into the story.
It's widely known that Elizabeth Olsen will return as Wanda Maximoff in Multiverse of Madness, as WandaVision was a primer for her adventures in the film. When they parted ways, Agatha tried to argue that Wanda needed her, with Wanda saying she would always know where Agnes is if that were to ever be the case. In the comics, Agatha Harkness was actually Wanda's magic tutor, so Wanda could seek her out for counsel in Doctor Strange 2. The movie has been filming for a while now, but Kathryn Hahn could still be brought in to film a scene or two.
What If...?
Marvel Studios' first animated project allows for some unique storytelling opportunities due to its anthology format. And in the process, it can bring in characters from different parts of the MCU. With this, there are plenty of ways for Agatha Harkness to show up on the show. There are some more straightforward ways to utilize her, but the series could take some kookier approaches as well.
For instance, the show could ponder what would happen if Agatha became the Master of the Mystic Arts instead of Stephen Strange. What If…? could also get more current by asking what would happen if Harkness had indeed succeeded in harnessing Wanda's powers during their battle in Westview. An even more extreme idea would be for the show to venture back to the character's heroic roots and transform her into a member of an Avengers team. These scenarios may sound crazy, but anything is possible within the show's collection of "vast, new realities."
Eternals
Based on what we know about Agatha Harkness (and the few details that have been revealed about Eternals), she could definitely show up at some point in an Eternals movie, with a later installment being the most likely. WandaVision established that Agatha has been around since the 1600s, having killed off her entire coven while in Salem, Massachusetts. Eternals is also set to take place over tens of thousands of years, so why not plug Agatha Harkness somewhere into that timeline?
Details on what Agatha was doing between her time in Salem and her stay in Westview are unknown, so the Eternals franchise could give us an idea by having her pop up somewhere. One would imagine that she's likely laying low and could have adopted civilian alter egos over different time periods (which also appears to be the case with the Eternals). Or maybe one of the Eternals actually encountered her in her true form at some point and tried to do battle with her. All in all, the movie provides a wide canvas of time periods for Agatha to show up in.
Loki
Honestly, who wouldn't want to see Tom Hiddleston's Loki and Kathryn Hahn's Agatha cross paths? The two are practically mirror images of each other, as both felt scorned by their parental figures and opted to go down their own paths. Loki, of course, has evolved more into an antihero, while Agatha opted for villainy. However, since Disney+'s Loki focuses on a pre-Thor: The Dark World God of Mischief, who knows what could transpire if the two were to run into each other.
Loki will see the titular character get wrapped up in the exploits of the Time Variance Authority (TVA) and, based on the trailer, he'll find himself traveling through different periods of time. So in his travels, he could find himself in 1600s Salem, Massachusetts, where a young Agatha Harkness is only just learning about magic. This hypothetical meeting could also have major ramifications on Harkness. What if Loki ends up creating a branch reality, one in which he unintentionally (or intentionally) encourages young Agatha to pursue dark magic in the first place. It's definitely only a fan dream at this point, but Loki's time-travel bent could certainly allow the two to meet at some point in time.
Fantastic Four
That's right, Agatha Harkness could find herself rubbing shoulders with Marvel's First Family. Harkness actually made her comic book debut in the pages of Fantastic Four back in 1970 and was introduced as the governess (or nanny) of Reed and Sue's son, Franklin. The Richards/Storm family didn't know of her status as a witch until after she prevented the Frightful Four from kidnapping young Franklin. From then on, she became somewhat of an unlikely ally to the team.
It's very likely Agatha won't be appearing in the first installment of Marvel Studios' Fantastic Four franchise, as Franklin as Franklin probably won't be around. But she could certainly come in at some point in the future. Harkness' presence could add an extra flair to the franchise that was missing in the previous films. It would also be interesting to see how director Jon Watts or another future filmmaker would utilize her. But with Watts' knack for humor, he, in particular, could do some great things with a comedic titan like Kathryn Hahn.
Marvel Studios, as per usual, has yet to give any indication as to what might lie ahead for Agatha Harkness. But fans hoping to see her again can rest easy knowing that she's still alive in the cinematic universe and that Kathryn Hahn does have an interest in returning.
If you'd like to revisit or finally check out the MCU's Agatha Harkness, you can do so by streaming WandaVision in its entirety on Disney+. And get the latest on all of the upcoming Marvel movies at CinemaBlend.
Covering superheroes, sci-fi, comedy, and almost anything else in film and TV. I eat more pizza than the Teenage Mutant Ninja Turtles.
Your Daily Blend of Entertainment News
Thank you for signing up to CinemaBlend. You will receive a verification email shortly.
There was a problem. Please refresh the page and try again.