Rob Lowe Gets His Ghostbusters On While On 9-1-1: Lone Star Set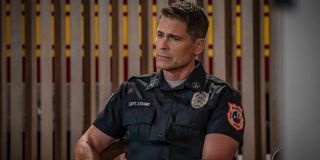 While Fox's 9-1-1: Lone Star is currently on hiatus for another few weeks, the cast and crew are still hard at work filming the second season of the first responder drama. And the hiatus isn't stopping the cast from dropping behind-the-scenes content, including Rob Lowe.
Even though filming takes a lot of work, there are times where there's a lull in between scenes. Recently, Rob Lowe hilariously filmed himself on the set of 9-1-1: Lone Star, jamming out to the iconic Ghostbusters song and posted it on Instagram. As indicated by the caption, he wasn't bored, but he was still bored. Although he plays a firefighter on Lone Star, perhaps he has another calling as a Ghostbuster in the future.
Rob Lowe must be used to "set life" considering his ever-growing filmography. However last month, the actor discussed that what he loved most about 9-1-1: Lone Star is the freshness of the series, how it's always something new, and the Ryan Murphy-esque world of it. The 126 crew have battled solar storms, volcanos, and wildfires; maybe the paranormal could be next for the Texas team.
The actor is known for sharing quite a lot on his Instagram. Last year, Rob Lowe shared a major throwback photo of him and former costar Keanu Reeves playing basketball together. The photo is not one to be forgotten, but it makes you wonder just how many other videos or photos Lowe has on his phone that are just itching to be shared.
The Parks and Recreation alum stars in 9-1-1: Lone Star as Captain Owen Strand, a firefighter who moves from New York to Austin with his son in order to rebuild a firehouse after they suffered a tragedy. The series premiered to huge numbers in January of last year, with over 11 million viewers tuning in. Fox was quick to renew the series a month after the first season finale. The second season has been topping Monday nights, just behind parent series 9-1-1, and has even included a crossover with the original series. While there is no word yet on a third season, Lone Star seems like a safe bet for renewal.
9-1-1: Lone Star had its winter finale a few weeks ago, which ended on a major cliffhanger as the lives of two characters were unknown. The series makes its return on April 19 and even though it's still some time away, fans can most likely look forward to even more behind-the-scenes videos and photos from Rob Lowe and the rest of the Lone Star cast. It's one of the great things about social media. Actors can be even closer to their fans by posting content when they're filming something, Who knows what will happen in the back half of Season 2, but one thing is for sure: Lowe will definitely still be entertaining fans and being the firefighter captain and father we all love.
Passionate writer. Obsessed with anything and everything entertainment, specifically movies and television. Can get easily attached to fictional characters.
Your Daily Blend of Entertainment News
Thank you for signing up to CinemaBlend. You will receive a verification email shortly.
There was a problem. Please refresh the page and try again.