The Irregulars: 7 Questions We Have After The Season 1 Finale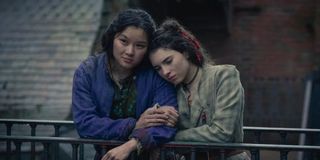 Netflix has created yet another hit-series with The Irregulars. The Irregulars is a hybrid-series that's part historical fiction, part mystery series, part supernatural tale, and part-reimagining of Sherlock Holmes. The Irregulars Season 1 started off very strong, establishing this world, these characters, and getting us highly invested in a prince's love life. It's one of the best shows to binge watch on Netflix this week.
The Irregulars eight-episode first season got us hooked but also left us pretty satisfied with its season finale. However, The Irregulars Season 1 left us with a ton of questions and things to explore in a potential Season 2. Let's see how Netflix ended The Irregulars Season 1 and what could come next.
Warning: The Irregulars Season 1 spoilers ahead. Don't continue if you want to remain unspoiled.
Will We Learn More About Spike And Billy's Backstories?
The Irregulars Season 1 focused a lot on sisters Bea (Thaddea Graham) and Jessie (Darci Shaw). We learned a lot about their mother Alice (Eileen O'Higgins) and Jessie's father Sherlock Holmes (Henry Lloyd-Hughes). We also learned some of the abuse that Bea endured as a child. I am sure there is still a lot to learn about the sisters' heartbreaking, rough childhood that we have yet to discover, but we learned a lot more about their past than we did about Spike (McKell David) and Billy's (Jojo Macari) pasts.
We learned how Billy wasn't able to protect Bea because he was such a tiny child, and we also learned that he was lied to about his parents, and that his mother was likely a prostitute. However, there was still very little revealed about what he endured in the workhouse, but we know whatever it was traumatized Bea, him, and Jessie.
We also know that Spike was never in the workhouse, but we learned nothing about Spike's past. We also haven't learned how the new Irregulars group became their little tight family. The Irregulars still has a lot to tell us about all four of these characters, and I can't wait to find out more.
What Happens Next In The Billy, Bea, And Leo Love Triangle?
The first episode of The Irregulars pretty much established that Billy and Bea were secretly in love with each other, but too afraid to say anything. Then Leopold (Harrison Osterfield), aka Leo, showed up and Bea became bewitched by him. Around Episode 4, The Irregulars Season 1 shifted from the love triangle to allow Bea and Leo to fall in love. It also allowed Leo and Billy to stop competing for a girl and become friends.
The Irregulars Season 1 finale ended very badly for Leo-Bea shipper fans, as Leo made a sacrifice to save Billy from prison. He agreed to begin a courtship with Helena (Sophie Robertson) in order for his family to agree to help Billy get out of prison. This led to a teary goodbye between Leo and Bea as they accepted that their romance is basically over.
We know that the feelings are still there between Bea and Leo, but I predict that Season 2 will involve him trying to suppress those feelings to focus all his attention on Helena. I also believe that Season 2 will be the rise of Billy and Bea as a couple. With Leo kind of out of the picture, I think Billy and Bea's friendship will finally start into evolve to a romance.
Are Sherlock And Alice Really Gone For Good?
The big Irregulars Season 1 showdown had Alice return from the Rift to try to rejoin the human world to be with her daughters and Sherlock. She didn't really care if it meant unleashing dangerous magic and carnage all over London. Jessie made the right decision and decided to close the Rift, sending her mother back to the in-between side of life and death. Sherlock also made a decision. He decided to join Alice, leaving Jessie and Bea once again parentless and Watson (Royce Pierreson) heartbroken.
If Alice can open the Rift once, there is no stopping her from trying again. I think we're supposed to assume that because now she has Sherlock, she won't be lonely and try again. This could be the case but I just don't quite believe that this is the last we see of Sherlock and Alice in The Irregulars.
How Will Jessie's Powers Develop In Season 2?
Jessie went through a lot in The Irregulars Season 1, but she came out of it emotionally stronger and became even more of a powerful Ipsissimus. The Rift is closed, so Jessie shouldn't really need to use her powers anymore, but I'm sure that more supernatural dangers will pop-up in season two, and Jessie will have to use her powers to stop them. Hopefully, The Irregulars Season 2 dives more into Jessie's powers and their evolution. I also hope we learn why Jessie inherited her powers from Alice but Bea didn't inherit any powers.
Will Leo Marry Helena?
Leo sacrificed his future with Bea to give Billy a future in general. Briefly, we met Helena in The Irregulars Season 1, but I'm sure we'll meet a lot more of her in Season 2. The character of Leo is based on real-life Prince Leopold, Duke of Albany. He ended up dying at 30 from his hemophilia, but he did marry Princess Helena of Waldeck and Pyrmont, two years before his death and they had two children.
Now, The Irregulars has Leo as a 17-year-old teen boy, so I am not sure if they are just going to show a long courtship between Helena and him as long as the series lasts, or have Helena and him marry once he turns 18. I do think The Irregulars will end up having Helena and Leo marry. It's just unclear of how soon and if they'll have him actually fall in love with her, or have him pine after Bea the entire series. Personally, I prefer the alternative timeline where Bea and Leo somehow make it work, but we all have to move on and accept Helena and Leo as the end game pair.
Is There A Romance Developing Between Spike And Jessie?
Spike revealed to Jessie at the end of The Irregulars Season 1 that his biggest fear, the one that The Linen Man (Clarke Peters) uses against him, is of Jessie being hurt or dying. They then shared a tiny moment that could imply a romantic future. We also saw little moments like this throughout the season.
I think it's too early to tell if the series plans to pair Spike and Jessie, especially because we also saw him flirting heavily with Leo's sister and we also don't know yet what characters will appear in season two. The Linen Man also mentioned having a son who he wanted Jessie to marry to make more Ipsissimus. I wouldn't be surprised if this son makes an appearance in Season 2 as a villain or Jessie's love interest, or if Jessie meets more Ipsissimus and falls for one of them.
How Will Watson's Relationship With The Irregulars Change In Season 2?
Watson and Bea had a very combative working relationship in Season 1. However, The Irregulars Season 1 ended with them together mutually bonding over their broken hearts. It seems that now they have a better understanding of each other. I believe season two will show their relationship become more of a mentorship, even possibly have some father-daughter tones to it.
According to What's On Netflix, The Irregulars was renewed for Season 2 before the first season even premiered. However, Netflix has made no official announcement about The Irregulars' future. I really hope this show gets another season because it's one of the recent Netflix TV shows that I've enjoyed the most. I would love to see what's next for The Irregulars.
The Irregulars Season 1 is currently available to stream on Netflix.
Your Daily Blend of Entertainment News
Spent most of my life in various parts of Illinois, including attending college in Evanston. I have been a life long lover of pop culture, especially television, turned that passion into writing about all things entertainment related. When I'm not writing about pop culture, I can be found channeling Gordon Ramsay by kicking people out the kitchen.
Your Daily Blend of Entertainment News
Thank you for signing up to CinemaBlend. You will receive a verification email shortly.
There was a problem. Please refresh the page and try again.