The Falcon And The Winter Soldier: 13 Behind-The-Scenes Facts About The Marvel TV Show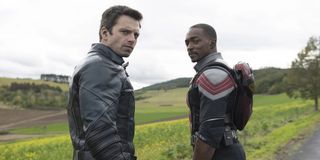 CinemaBlend participates in affiliate programs with various companies. We may earn a commission when you click on or make purchases via links.
From its beautifully shot action sequences, daring depictions of timely sociopolitical themes, and willingness to finish the production in the midst of a worldwide health crisis, I genuinely believe The Falcon and the Winter Soldier is one of the boldest and most exciting installments of the Marvel Cinematic Universe yet. The second of Disney+'s Marvel TV shows feels so big and cinematic that it clearly has a really good story behind the making of the production. Well, we intend to tell that tale now with the following behind the scenes facts, starting with that badass introduction.
Falcon's Opening Action Sequence Was A Combination Of Practical And Digital Effects
Fittingly, the beginning of The Falcon and the Winter Soldier premiere gives Anthony Mackie's The Falcon, arguably, his best action scene in the MCU yet. In the latest installment of Marvel Studios Assembled (streaming on Disney+ now), producer Zoie Nagelhout explained that pulling off the breathlessly paced aerial sequence began with shooting footage of actual skydivers in wing suits for reference material which would later become a part of the finished scene, but with some CGI intervention.
Additionally, while Mackie was never actually flying for the shoot, most shots of him in the scene are real, which was achieved by filming him up close "Go-Pro style" on a soundstage while suspended with wires. Even the helicopter that Falcon flies in and out of was practical in some shots, despite it never actually leaving the soundstage either. This would be not the last time The Falcon and the Winter Soldier had to digitally recreate an environment, but more on that later.
Anthony Mackie's Louisiana Roots Inspired Sam Wilson's Hometown
The series did not, however, need to create an artificial environment for Sam Wilson to come home to in The Falcon and the Winter Soldier. As showrunner and Empire writer Malcolm Spellman explains in the Assembled featurette, the writing staff decided to make Anthony Mackie's real home state of Louisiana Sam's home state, to bring an extra layer of authenticity to his performance. Mackie was not the only the only actor in the Falcon and the Winter Soldier cast who was able to look to his own past for inspiration.
Clé Bennett Grew Up Collecting Comics Featuring Lemar Hoskins
Clé Bennet is no stranger to the superhero game, and not just from previously starring on non-Marvel superhero TV shows The Tick and Heroes: Reborn. The Canadian actor recalls on Assembled how he did not know who he was playing when he joined the Falcon and the Winter Soldier cast, adding he was just happy to be a part of the MCU, but became extremely excited when he learned he was playing Lemar Hoskins. He then reveals that he grew up reading and collecting adventures featuring Lemar as Battlestar and John Walker in Marvel Comics. Speaking of…
Wyatt Russell Had Previously Auditioned To Play Captain America
Wyatt Russell would become the second generation in his family to join the MCU after his father, Kurt Russell, played Ego in Guardians of the Galaxy Vol. 2 in 2017. However, as he revealed to Good Morning America, he could have been the first, had he won over the producers in his audition to play Captain America years earlier. While Chris Evans ended up playing Steve Rogers, at least Russell can say that he would eventually get to take up the shield as the new Cap… for a little while.
Anthony Mackie And Sebastian Stan Improvised A Lot Of Their Therapy Session
A therapy session proved to be a pretty heavy way to check in on James Buchanan "Bucky" Barnes (Sebastian Stan) in the Falcon and the Winter Soldier premiere, but also a pretty fun way to dive deeper into his complicated friendship with Sam in Episode 2. Amy Aquino, who plays Dr. Christina Raynor on the series, revealed to Entertainment Tonight that the funniest moments from that dual therapy session came off the top of the MCU veterans' heads, including the part where they interlock legs with each other. The actress claims she "probably would not have been able to keep a straight face" had she not met them that day.
Daniel Brühl Also Improvised Zemo's Famous Dance Moves
Anthony Mackie and Sebastian Stan were not the only ones flexing their improv skills on the Falcon and the Winter Soldier set. While also speaking to Entertainment Tonight, German actor Daniel Brühl had this to say when asked about Baron Zemo's now iconic dance in Madripoor:
I would not be surprised if that sporadic and unlikely choice moment of improvisation ended up buying Daniel Brühl more time in upcoming Marvel movies as Baron Zemo. If not, at least fans can see the Captain America: Civil War villain, dancing for a full hour on Marvel Entertainment's official YouTube channel to have their own party in Madripoor whenever they would like.
Back Alleys In A Town Outside Atlanta Doubled As Madripoor
For any fans from the United States who want to have a real party on Marvel's Island of Madripoor, they will not have to travel too much farther. On the Assembled featurette, The Falcon and the Winter Soldier director Kari Skogland recalls going through months of location scouting before she and production designer Raymond Chan found a series of back alleys right outside of Atlanta, Georgia, which happened to resemble just what they were looking for to construct this lawless society. Of course, they could have gone the easy route by making it the back of a sleeping dragon as the comics would reveal, but nothing would ever come easy when filming this show anyway, especially when it came to location.
Earthquakes Prevented Production In Puerto Rico
The Falcon and the Winter Soldier episode of Assembled also talks about how shooting on location was important to the filmmakers, which became a greater challenge than they had anticipated. For instance, the crew was planning to "widen the scope" of the Atlanta-based series by shooting in Puerto Rico right before a devastating earthquake hit the territory, which did not discourage anyone from trying to move production there a second time. However, a second earthquake right before they were prepared to leave, which led them to settle on shooting in Prague, where they would soon face another devastating challenge.
Covid-19 Hit A Week Into Production In Prague
According to Zoie Nagelhout on Assembled, shooting in Prague only lasted a week before the pandemic "became very real," forcing The Falcon and the Winter Soldier to shut down production in March 2020. Months later, after convincing the Prague government to allow the American crew back into the country to finish the shoot, production resumed with strict guidelines in place and, as Kari Skogland claims, a new sort of energy and familial dynamic which strengthened the project in many ways.
Germany Had To Be Recreated Digitally For The Truck Fight
Even before earthquakes and viral illness caused issue with location scouting, the challenge of creating an authentic environment within the series was very much alive. Case in point, the exciting action sequence in The Falcon and the Winter Soldier Episode 2 in which Sam, Bucky, John Walker, and Lemar Hoskins fight the Flag Smashers on top of two moving semi trucks. Despite many shots filmed using blue screen, some were achieved practically in Atlanta, but still needed to be digitally removed and replaced with scenery that more accurately reflected the sequence's German setting.
The Falcon And The Winter Soldier Crew Snuck Julia Louis-Dreyfus Onto Set In A Hooded Cloak
If you think making Atlanta look like Germany almost seamlessly is a neat magic trick, how about keeping Julia Louis Dreyfus' cameo in The Falcon and the Winter Soldier Episode 5 hidden for so long. According to a tweet by the former Seinfeld star, the crew had to sneak her onto set each day wearing a dark hooded cloak to keep her appearance a secret. Of course, what makes that achievement so surprising is that her MCU debut was meant to come much earlier.
Julia Louis-Dreyfus' Valentina Allegra De Fontaine Debut Was Meant For Black Widow
The mere discovery that Julia Louis-Dreyfus is part of the MCU alone made her Falcon and the Winter Soldier appearance especially shocking, but apparently that reveal was intended for the big screen. If not for Black Widow's long delayed theatrical release, we would have seen the debut of Valentina Allegra de Fontaine in that Marvel movie first. Well, at least we know that she has a future in the MCU which may include Sam Wilson's next adventure.
Flaws In Sam Wilson's Captain America Suit Cowl Had To Be Digitally Removed
Speaking of Sam Wilson, how great did the former Falcon look in his first appearance as Captain America in The Falcon and the Winter Soldier finale episode? Apparently that flawless look required some movie magic, too, particularly around his new suit's cowl piece. On the Assembled doc, VFX Supervisor Eric Leven recalled how the cowl would flex outward whenever Anthony Mackie he moved his head, which would be hidden with CGI trickery to maintain the suit's illusion of comic book-accurate perfection.
As much as I respect the choice to honor Sam Wilson's appearance from the source material, I personally would opt for a few alterations to the costume before Anthony Mackie suits up for Captain America 4 soon. Perhaps, they could experiment with a cowl that does not naturally flex out with small movements or one that surrounds the more vulnerable areas of his head, much like Steve Rogers' protective helmet did. Just a thought.
Your Daily Blend of Entertainment News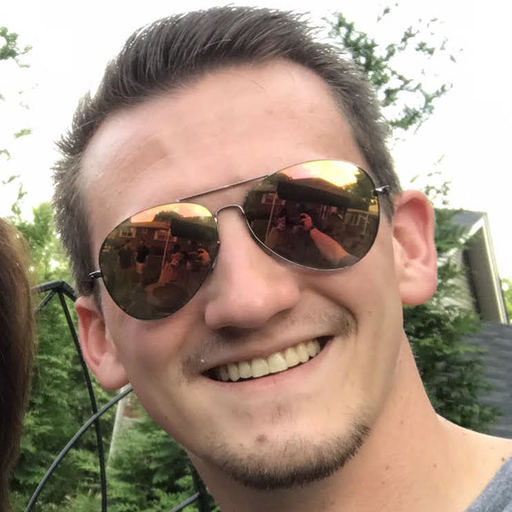 Jason has been writing since he was able to pick up a washable marker, with which he wrote his debut illustrated children's story, later transitioning to a short-lived comic book series and (very) amateur filmmaking before finally settling on pursuing a career in writing about movies in lieu of making them. Look for his name in almost any article about Batman.