Valentina Allegra De Fontaine: What We Know About Her From The Marvel Comics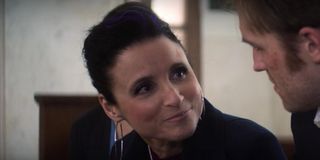 When Julia Louis-Dreyfus popped up as Valentina Allegra de Fontaine in The Falcon and the Winter Soldier, I had not seen a more exciting and unexpected cameo on one of the Marvel TV shows since… well, I think we all know the answer to that (see Evan Peters' Quicksilver on WandaVision). Initially, my elation was due to the mere sight of a Seinfeld alum in a Marvel adaptation, but when I looked further into the history of this mysterious character from the comics, I began to find even more reasons to be excited or, more accurately, curious.
That being said, you have not seen anything yet if you thought Val's cameo in The Falcon and the Winter Soldier Episode 5 left much to be desired, as there is actually not much that I can say about her origins from the comics. Even her actual name remains a mystery after more than 50 years since her introduction into the Marvel Universe, but there is still much to be amused by regarding the facets of her life which have been "declassified" so far. So, to better prepare us for what future Julia-Louis Dreyfus has ahead in upcoming Marvel movies, let us take a look at her character's past with the following essential facts about Valentina Allegra de Fontaine, starting with her best-known position in the world of espionage.
Valentina Would Become A Leading S.H.I.E.L.D. Agent
Created by writer and artist Jim Steranko, Contessa Valentina Allegra de Fontaine was first introduced in Strange Tales Vol. 1 #159 in August 1967. Her Marvel Comics debut would also mark her debut as an agent of S.H.I.E.L.D., which she would join after the murders of her wealthy, Italian socialite parents while aiding a European resistance movement, which made her life feel "meaningless." She would take on the Mongolian warlord Plan Chu - better known then as the Yellow Claw, but later preferring the name Golden Claw - in her first mission upon recruitment.
In following years, Valentina Allegra de Fontaine would become one of the organization's top operatives with her impeccable skills in hand-to-hand combat, marksmanship at a nearly perfect level of expertise, and strong leadership capabilities. She would even become S.H.I.E.L.D.'s liaison to United Kingdom, where she was assigned to help Union Jack (sort of like a British Captain America, but not Captain Britain) after Nick Fury went underground.
Valentina Was Once Romantically Involved With Nick Fury
Speaking of Nick Fury, not all of Valentina Allegra de Fontaine's relationships at S.H.I.E.L.D. have been strictly professional. She and the organization's famed director would share a passionate affair that, upon discovering this fact, has me dying for Julia Louis-Dreyfus to cross paths with Samuel L. Jackson in a future Marvel Cinematic Universe installment.
It should be noted, however, that Valentina Allegra de Fontaine's relationship with Colonel Nick Fury would actually prove to be a little too passionate at times, with Val often intentionally trying to get under his skin by flirting with Steve Rogers in plain sight. This would actually incite conflict over her heart between Fury and Captain America, much to chagrin of Rogers' lover at the time: Sharon Carter.
Valentina Led The Femme Force With Sharon Carter
The rift Valentina Allegra de Fontaine created between Steve Rogers and Sharon Carter would cause a jilted rapport between the S.H.I.E.L.D. operative otherwise known as Agent 13 and the contessa. Things did not get any easier when Sharon and Val (who was actually referred to as Agent 14 at S.H.I.E.L.D., believe it or not) began working together on the Femme Force in the the early 1970s.
First established by Nick Fury under the authorization of President Richard M. Nixon to create equal opportunities in the line of defense, the Femme Force was an elite special forces group that consisted entirely of female S.H.I.E.L.D. agents until it went defunct. The unit was collaboratively headed by Sharon Carter and Valentina Allegra de Fontaine, who led the group to respectability within S.H.I.E.L.D., especially in the battle against Red Skull and Hydra. However, the fact that Sharon and Val could be successful allies and romantic rivals simultaneously is not the even the most ironic aspect of that fact.
Valentina Is Also Known As Madame Hydra
As I said before, Valentina Allegra de Fontaine is a major figure of mystery in the Marvel Universe, with her most essential information being revealed much later. One of the most striking revelations surrounding her history was that, all while she was working for S.H.I.E.L.D., Val was actually a double agent covertly working for Hydra, and even became something of a poster child for the fascist organization by assuming the aptly dubbed moniker of Madame Hydra.
It should be noted that Valentina Allegra de Fontaine is not the first person in Marvel Comics (or onscreen) to take up that mantle. The first would be Ophelia Sarkissian (otherwise known as Viper) who would later appear in 2013's The Wolverine as played by Russian Actress Svetlana Khodchenkova and later re-envisioned for the Agents of S.H.I.E.L.D. as an artificially intelligent digital assistant called AIDA. Julia Louis-Dreyfus' MCU iteration of Val is poised to be the most definitive Madame Hydra we have seen on screen so far.
Valentina Was Also A Russian Sleeper Agent For Leviathan
That being said, if Julia Louis-Dreyfus is also poised to be the most definitive iteration of Valentina Allegra de Fontaine we have seen on screen so far, that would mean it should also be prepared to mention the organization that she was actually reporting to the entire time. Yes, that is right: in addition to secretly being a double agent for Hydra during her tenure at S.H.I.E.L.D., Val was, in reality, a Russian sleeper agent under the command of Leviathan.
Valentina Allegra de Fontaine revealed her true colors to Interpol after she created a conflict between Hydra and Leviathan, which is a Soviet terrorist organization that was also a focal point of Marvel's short-lived Agent Carter series in 2015. As it turns out, Val's parents were also sleeper agents for the organization, in Italy. So, I suppose she was not being dishonest about her mother and father being highly influential to her career.
You know, Julia Louis-Dreyfus is actually just the second person to play Valentina Allegra de Fontaine in a live action-setting, the first being Lisa Rinna in a made-for-TV movie starring David Hasselhoff as Nick Fury from 1998. With all due respect to the Hoff, I think most agree that Samuel L. Jackson's performance in following Marvel movies in order was an improvement. I believe the veteran leader of the Veep cast has a good chance of leading that same legacy.
Jason has been writing since he was able to pick up a washable marker, with which he wrote his debut illustrated children's story, later transitioning to a short-lived comic book series and (very) amateur filmmaking before finally settling on pursuing a career in writing about movies in lieu of making them. Look for his name in just about any article related to Batman.