This Is Us Season 6: Everything We Know About The Next Season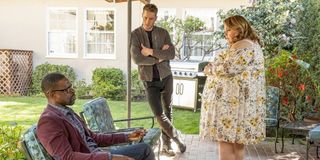 When I first began watching This Is Us back in 2016, I never could have imagined the phenomenon it would quickly become. In a world that was dominated by big-budget shows like Game of Thrones and Stranger Things, it was refreshing to have a show that felt like we were coming home, one that we could enjoy with our families.
Let's be honest with ourselves – This Is Us has been making us cry for five years straight, and will only continue to do that with the upcoming sixth season. But, what exactly is going to happen in this next season? Should we prepare to truly cry our eyes out? Or get our pitchforks ready? Regardless, since Season 5 just ended, here is everything we know about This Is Us Season 6.
Season 6 Will Be This Is Us' Last Season
After five years of continuous crying, it is with a heavy heart that we say that This Is Us will be ending with Season 6, as originally reported by The Hollywood Reporter. The last season of the NBC tear-jerker will be airing during the 2021-2022 broadcast season.
While it's a shame that the show is coming to an end, This Is Us lasted longer than some shows with dedicated fanbases, and hopefully will be able to wrap up all those intersecting plotlines just as it has for the last five years. The creator of the show, Dan Fogelman, talked about the show ending in a tweet he posted on his Twitter page.
Judging from this, it seems the creator, along with the writers, always intended for the show to end after six seasons, so if this was in their plan, I trust their judgment.
This Is Us Season 6 Will Premiere Largely Uninterrupted In 2022
I don't know if any of you have noticed, but This Is Us has a pretty strange schedule. There have been several times where episodes premiere between long breaks, sometimes after two to three weeks, and once took a seven-week hiatus. While we could also blame the pandemic for production pushbacks for Season 5, this was something that happened before that, as well.
However, for Season 6, it's reported that the last season will premiere largely uninterrupted in 2022. According to an interview with Susan Rovner, the NBC Universal Television Chairman of Entertainment, TV Line reported that it's more to pay tribute to the fans of the show.
For someone who has religiously watched the show since the beginning, this is great news to hear. While it's unfortunate to have to wait so long for it to premiere next year, it's time I can willingly give over so I can see the show on a regular basis for its last season.
The Core This Is Us Cast Is Expected To Return
While we don't have a confirmed cast list, as the Season 5 finale just aired, I think it's a safe bet to say that most of the main cast will return. It would be a bit of a disappointment to see them suddenly disappear when the last season has so many questions to answer.
Most of the cast have shared their thoughts over Season 6 becoming the last season of the popular NBC show. Actor Sterling K. Brown, in an interview with Us Magazine, said he was proud to bring Randall to TV screens across the country and see how much Randall has affected viewers.
Chrissy Metz, known for playing Kate Pearson on This Is Us, shared her thoughts on Season 6 being its last, and her future post-This Is Us in an interview with Today.
Mandy Moore, who has played the matriarch of the family, Rebecca Pearson, since the beginning of the show, even posted a heartwarming tribute picture on Instagram of Dan Fogelman's original tweet announcing the last season.
Just reading these quotes are getting my eyes all welled-up already. I don't know how I'm going to make it through this last season.
There Are A Lot Of Questions That Need To Be Answered In Season 6 Of This Is Us
Look – the ending of This is Us Season 5 was bonkers. I think we can all collectively agree that those last five minutes of the finale of Season 5 left us with way more questions than answers in that five-year time skip. Is Kate marrying her music teacher? Are Kevin and Madison still together? Who is Nicky married to? There are so many questions running around in my head, looking for an answer.
Not only that, but with this being the last season, we still need to see the conclusion of the future timeline as well. Is Rebecca going to die in that timeline soon? Are we only viewing that timeline just to see what the family is like in those years? I have to know everything.
This Is Us, in general, has done a good job at answering questions pretty quickly in their five-season run so far. Hopefully, that trend can continue into its very last season.
I'm going to need to look at the 2021 Summer TV shows to somehow get my mind off of this because I'm going to be thinking about the last season constantly. This Is Us is expected to return in 2022, even if a part of me wishes it was sooner. Even so, we'll have to say goodbye to the Pearsons soon enough – I hope your tear ducts are ready. If you want to catch up on all the drama, here's how to watch This Is Us streaming.
Your Daily Blend of Entertainment News
Big nerd and lover of Game of Thrones/A Song of Ice and Fire. Will forever hate season eight. Superhero and horror geek. And please don't debate me on The Last of Us 2, it was amazing!