Andrew Rannells: What To Watch Streaming If You Like The Book Of Mormon Star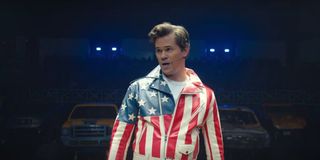 Andrew Rannells is a multifaceted performer who has had a very successful career both center stage in the theater scene and in the film and television world. Rannells has appeared in many cult-favorite shows, plays, and movies, including Girls, Girls5Eva, The Book of Mormon, Falsettos, and Invincible. His star power continues to rise as he takes on more and more high-profile and challenging projects. Andrew Rannells's magnetic screen and stage presence make him an actor who you would gladly watch in any project.
Rannells's distinct, rich voice has allowed him to thrive in the world of voice acting as well. If you're a new or a long-time fan of The Book of Mormon star, then you may be happy to learn that there are plenty of his projects available on various streaming platforms. Here are some of the best Andrew Rannells shows, movies, and specials to stream.
Girls (HBO Max)
Girls aired from 2012 to 2017 on HBO. It followed a group of 20-something women living in New York and trying to figure out how to navigate their young adulthood. Girls helped launch the careers of Lena Dunham, Allison Williams, Jemma Kirke, Zosia Mamet, Adam Driver, and Christopher Abbott. Lena Dunham also created the series.
Andrew Rannells began Girls in a recurring role as Hannah (Lena Dunham)'s gay ex-boyfriend Elijah. He then becomes a main character in the series and Hannah's roommate. Girls is the series that introduced many to Rannells's comedic talent and helped build him an even bigger fan base.
The Prom (Netflix)
The Prom is a 2020 movie musical adaptation of the Broadway musical of the same name. Ryan Murphy produced and directed the film version. The Prom's cast includes an all-stars like Meryl Streep, James Corden, Nicole Kidman, and Keegan-Michael Key.
Andrew Rannells plays Trent Oliver, a Juilliard grad and former sitcom star who finds himself between gigs. The Prom is a fun musical with a purpose. It gives viewers cheery music while addressing such topics as aging, inclusion, and LGBTQ+ representation. It has plenty of entertaining numbers and plenty of catchy songs, so those who miss Rannells's theater performances get a bit of that Broadway flare with The Prom.
Invincible (Amazon Prime Video)
Invincible is an animated series based on the comic book of the same name by Robert Kirkman. It follows teen Mark Grayson (Steven Yeun) who has always known that he was destined to follow in his father, Nolan Grayson, a.k.a. Omni-Man (J.K Simmons)'s, footsteps and become a superhero like him. He just took a little longer to develop his powers than expected. The first season of Invincible follows Mark as he adjusts to his new life as a superhero.
Invincible features a very impressive voice cast that includes Sandra Oh, Gillian Jacobs, Walton Goggins, and Andrew Rannells. He plays Mark's human best friend William Clockwell. Invincible is one of the best American-made animated series available to stream. If you're a fan of Robert Kirkman, then you know you'll get plenty of shocking moments, surprises, heartbreaking deaths, and a blurry line between hero and villain.
Stream Invincible on Amazon Prime.
Girls5Eva (Peacock)
Girls5Eva is a Peacock original series that follows four forty-something women who used to be in an all-girl group. After a rapper samples some of their old music, they decide to reunite and see if they can have their second chance at fame and a music career. Girls5Eva stars Sara Bareilles, Renee Elise Goldsberry, Busy Philipps, and Paula Pell.
Andrew Rannells has a recurring role on Girls5Eva as Summer (Busy Philipps)'s husband Kev. He also used to be in a boy band. Now he lives and works far away from Summer as an entertainment reporter in Tampa. Kev seems to be stuck a bit in his boy band days, especially with his fashion choices. Girls5Eva is generally a very fun show, but fans of Rannells should watch it because he brings his own brand of wacky to Kev. Philipps and he also play off each other well as this badly matched pop couple.
The Boys In The Band (Netflix)
The Boys in the Band takes place at the birthday party of Harold (Zachary Quinto) as a group of his friends, all gay men, discuss topics like fidelity, self-hate, longing, and what it means to be a gay man in 1968. The film is based on a play of the same name. This version is directed by Joe Mantello, produced by Ryan Murphy, and the cast is comprised entirely of openly gay men, who also appeared in the 2018 stage revival of the play.
The Boys in the Band cast includes Jim Parsons, Matt Bomer, and Andrew Rannells. There are phenomenal performances by the entire cast. It's also a whirlwind ride for viewers from start to finish as tensions continue to build, and these men and the audience are forced to examine society and themselves. The Boys in the Band is one of the must-watch movies on Netflix.
Stream The Boys in the Band on Netflix.
Black Monday (Showtime)
Black Monday is a Showtime original series that follows employees at a Wall Street trading firm years before Black Monday, the stock market crash of 1987. Black Monday's cast includes Don Cheadle, Regina Hall, Andrew Rannells, Paul Scheer, and Casey Wilson.
Black Monday has been on for three seasons, but it is still a show that many have never heard of, mainly because it's easy to miss a few thousand series with so many available. However, Black Monday is worth finding because of the talented cast and their ability to make even dark situations a little funnier.
Stream Black Monday on Showtime
Andrew Rannells in Concert Live From Lincoln Center (Broadway HD)
As part of the Lincoln Center series, Andrew Rannells performs some of his favorite Broadway and pop songs. The full concert special is about fifty-five minutes long and aired in 2018. Some of the songs Rannells sings are "It Must Be Him" by Gilbert Becaud, "Your Fault" and "No More" from Into The Woods, and "Born to Run" by Bruce Springsteen.
Many of Andrew Rannells's Broadway performances from shows like Book of Mormon and Falsettos are not available to stream, so this is the next best thing if you want to see Rannells belt it out and hear an array of songs. It really showcases his singing talents for those who may not have had the privilege of seeing him perform on Broadway. As of June 2021, Andrew Rannells in Concert is only available on Broadway HD.
Stream Andrew Rannells in Concert on Broadway HD
Big Mouth (Netflix)
Big Mouth is an animated series that follows characters in their early teens as they explore their growing hormones, sexuality, emotions, friendship, and other important topics. The main voice cast includes Nick Kroll, John Mulaney, Jessi Klein, Jason Mantzoukas, Jenny Slate (who was replaced by Ayo Edebiri), and Maya Rudolph.
Andrew Rannells plays Matthew, the openly gay student in Big Mouth. Matthew began the series as a recurring character but has become increasingly more important to the show, especially as it dives into more topics like queer identity and sexuality. Big Mouth captures the awkwardness of growing up in a unique, strange, quirky, and funny way. It makes its adult viewers remember the cringe-worthy moments from their teen years and be thankful that those days are over.
Drunk History Season 4, Episode 7 "Landmarks" (Hulu)
Drunk History is the Comedy Central series that has comedians get drunk and retell moments in history to Derek Waters. As the comedians are telling their stories, a cast acts them out with the narrators' voices dubbed over the characters' voices. Drunk History lasted for six seasons before being canceled in 2020.
Andrew Rannells appeared in the Season 4 episode "Landmarks." He played Washington Roebling, the man that helped construct the Brooklyn Bridge. The episode also featured John Ennis and Taylor Schilling. In general, Drunk History offers some entertaining retellings of historical events, which allow you to learn something while you chuckle.
Buy Drunk History on Amazon Prime
The Knick (HBO Max)
The Knick was a Cinemax original series that aired from 2014 to 2015. It had two seasons and twenty episodes total. It starred Clive Owen, Andre Holland, Juliet Rylance, Eric Johnson, and Jeremy Bobb. It followed Dr. John W. Thackery and the staff at the Knickerbocker hospital in New York during the early 1900s.
Andrew Rannells only appeared in a few episodes of season 2 as Frazier H. Wingo, the architect of the new Knickerbocker hospital. This is a very small part for Rannells. While this show doesn't give the actor a lot to work with, because Rannells is more known for comedic roles, his part on The Knick is a lot different from his norm, so fans will get to see him play a character who's quite serious and tough.
Buy The Knick on Amazon Prime.
The Stand-In (Netflix)
The Stand-In is a romantic comedy starring Drew Barrymore as a comedy actress who hits rock-bottom and basically has her career fall apart. However, her stand-in sees this breakdown as an opportunity to gain the spotlight. Drew Barrymore plays both of the main roles.
Andrew Rannells has a very small role as one of the people Paula (Drew Barrymore) meets in rehab while posing as Candy (Drew Barrymore). He's a not-so-secret fan of Candy. The rehab scenes are only a very small part of the movie but some of the funniest parts of The Stand-In, mainly due to Rannells, Michelle Buteau, and Teddy Coluca's characters.
Stream The Stand-In on Netflix.
Rent The Stand-In on Amazon Prime.
If you want more Rannells to watch, he's also in some of the best Amazon Prime movies to rent for some light-hearted comedy or dark comedy, like A Simple Favor and The Intern. Andrew Rannells has created many memorable characters on popular series like Girls and Girls5Eva. These are characters we love to watch because of Rannells's distinct brand of on-screen charisma. You can currently catch Andrew Rannells every Sunday on Black Monday on Showtime.
Your Daily Blend of Entertainment News
Spent most of my life in various parts of Illinois, including attending college in Evanston. I have been a life long lover of pop culture, especially television, turned that passion into writing about all things entertainment related. When I'm not writing about pop culture, I can be found channeling Gordon Ramsay by kicking people out the kitchen.