Upcoming Keegan-Michael Key Movies And TV: What's Ahead For The Key And Peele Star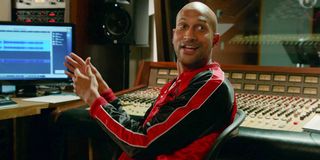 As a Penn Stater, I'm always one for supporting my alumni. And that's why I knew that when it was time to do a piece on my favorite James Franklin-impersonator, I had to take it because Keegan-Michael Key is one of the funniest people out there. With everything that he has done in the past, it's no surprise that the next couple of years are going to be filled with projects for the comedic actor.
From new series on Apple TV+ to moving on over to the Disney realm, there are plenty of Keegan-Michael Key movies and TV shows to look forward to. This is everything that we know about the future of Keegan-Michael Key.
Schmigadoon! – 2021 (Post-Production)
One of the projects that Keegan-Michael Key has coming up is one I'm anticipating most. Apple TV+ has been coming out with some great shows since its debut not that long ago, from the Golden Globe-winning Ted Lasso to See to so many others. However, Apple TV+ will be adding a brand new addition to its library in the form of Schmigadoon!
Schmigadoon!, according to TV Line, is an upcoming musical comedy that stars both Keegan-Michael Key and Cecily Strong. If you've heard her name before, it might sound familiar from the ever-popular Saturday Night Live. The show follows the story of a couple who go on a backpacking trip and end up discovering a magical town where everyone acts as if they are in a 1940s musical.
But there's always a catch, and in this, they can't leave this town until they find "true love."
Schmigadoon! already sounds like an awesome premise, but the additional casting that has been added onto this already star-filled showed is astounding. We have people like Kristin Chenoweth from Wicked, Jane Krakowski from 30 Rock, Dove Cameron from Descendants, Ariana DeBose from Hamilton and The Umbrella Academy and so many more.
According to Apple's February 2021 announcement, Schmigadoon! is set to premiere this summer in 2021. There's no set date yet, but if this series is going to be coming out as soon as June possibly, I'm all for it.
Hotel Transylvania: Transformania – 2021 (Post-Production)
Moving back into the movie world, we take a look at the fourth sequel (yes, you read that right, fourth) to the Hotel Transylvania series, Hotel Transylvania: Transformania. There wasn't a set release date until recently, or even a title, but the title has since been set to Hotel Transylvania: Transformania, with a release date set for July 23, 2021.
Keegan-Michael Key, who will be reprising his role as Murray the mummy, continues to work with an all-star cast behind him. According to The Wrap, former actors who have starred in the past movies are set to return, including Selena Gomez and Andy Samberg. However, it looks like Adam Sandler will be sitting this movie out, as Forbes notes Brian Hull will be voicing Sandler's Dracula character.
According to Variety, Selena Gomez is also going to be getting an "upgraded" position and stepping into an executive producer role, while also still voicing her classic character of Mabel.
There isn't much known about what the plot is going to be about, but considering this is supposed to be the last installment in the Hotel Transylvania series, which has collectively earned over $1.3 billion, it's sure to be a good one.
Key's character Murray is only one of the many friends that Dracula has, so I'm sure that whatever ghoulish adventures they seem to stumble into, it will be full of fun.
Wendell And Wild – 2021 (Filming)
Now this is one that I'm super excited about, if not just for the pairing alone. Wendell and Wild, according to Variety, is an upcoming Netflix animated film that will tell the story of scheming demon brothers, which the movie is titled about, and how they must face off against their archenemy to somehow get out of hell.
Keegan-Michael Key is set to star alongside his former co-star of Key & Peele, Jordan Peele. And I don't know if you've seen Key & Peele, but to me, it was one of the funniest sketch comedy shows out there. If you haven't seen it, check it out. While the end of their show was the end of an era and both of them have gone on to achieve some amazing projects (like Peele's Get Out), it's certainly going to be interesting seeing them together again – even if it is just in animated form.
But will they ever do a Key and Peele movie together someday? In an interview with ComicBook.com, Keegan-Michael Key opened up about working with Peele:
With this in mind, it would certainly be fun to see these two team up again. They do make comedy gold, from having starring roles together in films like Keanu to voicing characters in Toy Story 4. Even so, I'm excited for when this comes out. While there's no set release date yet, it's certainly something I'll look forward to.
The Bubble – TBA (Filming)
While there hasn't been much news that has come out about The Bubble, the cast list itself has got me amped for what this awesome movie could bring. Keegan-Michael Key is set to take up a role in The Bubble, a new Netflix comedy that is currently filming, according to Deadline.
Set to direct is Judd Apatow, who is known for several other amazing comedic hits like the Steve Carrell classic The 40-Year-Old Virgin and Trainwreck. With this in mind, I'm already getting my side ready for the number of laughs that will surely escape me when watching this film.
However, Keegan-Michael Key isn't the only person to look forward to in this film. According to Deadline, there are several stars that have already been confirmed to join the ranks of The Bubble. This includes The Mandalorian's Pedro Pascal, Avengers: Endgame's Karen Gillan, and several others.
The plot roughly follows a group of actors and actresses who are stuck inside of a pandemic bubble at a hotel, and are all trying to complete a film. With a premise like this that feels almost like something you'd hear about in the news, and an A-list cast to follow, I'm sure The Bubble will give Keegan-Michael Key the chance to flex his comedic muscles even more.
Pinocchio – TBA (Filming)
As we all know, Disney has been all about making these live-action remakes for some time now and they most certainly do not seem intent on stopping anytime soon. One of the latest classic animated films to get ordered a brand-new version is Pinocchio, And while you could have sold me already with the cast they have set – I mean, Tom Hanks as Geppetto? There's no better combination – they signed me on, even more, when Keegan-Michael Key joined.
According to The Wrap, Keegan-Michael Key will be playing Honest John, one of the antagonists of the film. While we've already seen Keegan-Michael Key show off his skills of being a villain in the musical Jingle Jangle back on Netflix in 2020, it'll be fun to see what kind of voice skills he had can bring to the party.
Keegan-Michael Key isn't the only star in this live-action film, however. The Pinocchio cast also includes several other A-list names that have signed up for Pinocchio, such as Joseph Gordan-Levitt as Jiminy Cricket, Cynthia Erivo as The Blue Fairy, Luke Evans as The Coachman and so many more.
There isn't a set date for the release of this film as was expected, but with Disney, I'm sure that they'll be getting this to Disney+ as soon as possible.
August Snow – TBA (Announced)
Now to our last item on this list, we move back to a TV series, where Keegan-Michael Key has signed on to headline an upcoming PI drama, titled August Snow, according to Deadline.
This show, which is in development for ABC, is based on the August Snow novels, which follows the story of a biracial former detective who grew up in Detroit's Mexicantown, and his ups and downs of his life after leaving the force and sort of becoming a quote-unquote "Robin Hood of the hood."
Per Deadline's article, August Snow received a script commitment in January, so it sounds like it's still in the development stages. While Keegan-Michael Key is known for more of his comedic moments and movies that focus on his comedy skill, it'll be interesting to see him take on a role that's so different from what he usually plays, should this project go to series.
Keegan-Michael Key is actually a Michigan native, according to Deadline, so taking part in a series that takes place in his home state most likely means a lot to him. Here's hoping things work out for it.
Which one of these projects are you looking forward to the most? I know it's only a matter of time before I get stitches in my side from laughing so hard. The new 2021 movies with him in it can't come soon enough.
Your Daily Blend of Entertainment News
Big nerd and lover of Game of Thrones/A Song of Ice and Fire. Will forever hate season eight. Superhero and horror geek. And please don't debate me on The Last of Us 2, it was amazing!
Your Daily Blend of Entertainment News
Thank you for signing up to CinemaBlend. You will receive a verification email shortly.
There was a problem. Please refresh the page and try again.