90 Day Fiancé's 3 Wildest Reveals For Mike And Natalie In Latest Episode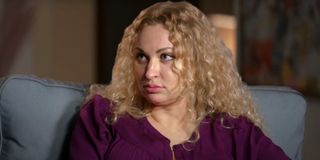 Warning! The following contains spoilers for the 90 Day Fiancé: Happily Ever After? episode "Let's Talk About Sex." Read at your own risk!
It's pretty much been an open secret that Mike Youngquist and Natalie Mordovtseva's marriage was over even before 90 Day Fiancé: Happily Ever After? started its latest season, though fans weren't made privy to the details behind what led to the couple's latest falling out. Little by little, this season has been drip-feeding information to audiences, but the latest episode unexpectedly dropped a ton of information about Mike and Natalie's downward spiral.
Prior to the latest episode, 90 Day Fiancé: Happily Ever After? showed a lot of tension building between Mike and Natalie following a Thanksgiving spent with Mike's mother Trish, whom Natalie previously claimed had called her a "hooker." Fans learned quite a bit more about that whole incident when Natalie dredged it up once again during a confessional segment, which then prompted Mike to jump up and air a number of grievances about their marriage, all while producers stood back and captured it all. Needless to say, there were some wild details shared.
Natalie Called Trish To Verify She Called Her A Hooker, But Didn't Ask The Question
Mike Youngquist informed producers that Natalie Mordovtseva had not spoken to his mother Trish since the alleged incident, which he still doubted took place. He then challenged Natalie to prove her confidence by calling Trish to ask why she'd called her a hooker. Natalie did call, but when Trish answered the phone, Natalie instead asked why Trish didn't respect her. Mike quickly pointed out how Natalie never actually asked about the hooker comment directly, and Natalie hung up the phone to continue arguing. Honestly, this doesn't really prove anything one way or another, but it's certainly worthy of note to 90 Day Fiancé fans.
Natalie Gave Away All The Christmas Presents Mike Bought Her
Shortly after that phone call ended, Mike decided it was time to talk about the things he hadn't admitted on camera. One gripe he has concerned the batch of presents he bought Natalie for Christmas, and he claimed she donated every single present to a family in need, solely because she was mad at him at the time. Natalie confirmed it happened, though we didn't learn exactly why she was so mad in that moment. It's possible this was all still tied to the Thanksgiving "hooker" incident because Mike didn't side with Natalie in the argument, but we really don't know.
Natalie Hasn't Really Slept In Their Home Since Christmas
Mike Youngquist went on to say that between Christmas and the time of the taping, Natalie Mordovtseva hadn't spent the night at their home. It wasn't entirely clear when the confessional had been filmed, but the way Mike reacted, it seemed like it had been quite a while. Mike later confirmed the two were still sexually active (naturally?), but claimed that she would leave their home after the sex was over in order to return to the friend's house she was staying at. Natalie defended herself by stating that she had her own room at her friend's house, which only made Mike more upset. This would actually link up with what Mike's Uncle Beau said whenever they first split up, although it would seem Mike and Natalie were still together even though she wasn't living with him.
Is Any Of This Real Life?
It goes without saying that Mike Youngquist and Natalie Mordovtseva's relationship drama is completely bonkers, but is it all actually legit? It's worth noting that some 90 Day Fiancé: Happily Ever After? fans have expressed doubt about the legitimacy of everything after Natalie mistakenly posted a photo on the 4th of July where Mike's Uncle Beau could be seen in the background (via Screenrant). Natalie went on to delete the post, but fans couldn't help but be suspicious, especially considering neither party has ever explicitly and publicly confirmed they've broken up. Is it possible they are actually still together, even after Natalie accidentally promoted an appearance on The Single Life?
All we can say for sure is that 90 Day Fiancé: Happily Ever After? airs on TLC Sundays at 8:00 p.m. ET. Catch episodes early Friday mornings on Discovery+, and let us know in the poll below where you think Mike and Natalie stand. For more on 90 Day Fiancé, read up on how Angela Deem caught hell from fans following a recent episode.
This poll is no longer available.
Mick likes good television, but also reality television. He grew up on Star Wars, DC, Marvel, and pro wrestling and loves to discuss and dissect most of it. He's been writing online for over a decade and never dreamed he'd be in the position he is today.
Your Daily Blend of Entertainment News
Thank you for signing up to CinemaBlend. You will receive a verification email shortly.
There was a problem. Please refresh the page and try again.