Amazon's Paper Girls TV Show: 7 Quick Things We Know About The Brian K. Vaughan Comic Adaptation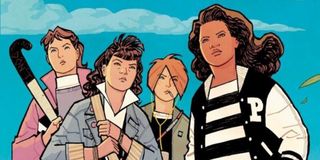 Amazon Prime Video has been on a roll with some of their adaptations lately, from some of Tom Clancy's work in the TV series Tom Clancy's Jack Ryan to the adaptation of Robert Kirkman's Invincible series. Now, it seems they are continuing that trend, with the addition of Brian K. Vaughan's popular comic, Paper Girls, coming soon to the streaming platform.
But what exactly is this popular comic about? When is it going to come out? Who's going to star? Luckily, we do have the answers to some of those questions. For those who want to know all about the latest comic book adaptation that Amazon Prime has decided to do, here's what we know so far.
There's No Set Premiere Date Yet For Paper Girls
It's not a surprise that there's no set confirmation date just yet for this adaptation of Paper Girls. While the adaptation was announced back in 2019, according to Deadline, a set release date has been up in the air. While it could arrive as early as late 2021, it's probably more likely to be lined up for 2022. However, for now, we don't know for sure.
Paper Girls Is A Coming Of Age Time-Travel Journey
For those who don't know about the premise of Brian K. Vaughan's Paper Girls, it's a coming-of-age story, mixed in with some great sci-fi. In this story, we get to follow four young girls who are out delivering papers on Halloween in the year 1988. However, they end up getting tangled in the warring factions of time-travelers, which will send them on a crazy adventure through time.
In this story, they travel between the past, the present, and the future, seeing those versions of themselves, and now in the end, must choose to embrace or reject the fate they have been given, creating an epic journey.
To me, coming-of-age stories have always been some of my favorite films. There's just something about kids growing into themselves that makes my heart all warm. But combining that with some time-traveling action? Sign me up.
Paper Girls Was Filming As Of July
While we don't know when the new series will release, it does appear that it has been filming, at least as of the beginning of July.
In a post put up on Twitter, the Wheeling Police and Fire Department confirmed that filming had wrapped in Illinois, talking about Amazon Studios and Legendary Entertainment as well as Paper Girls. There haven't been any updates on filming since then, but it's good to know that they are currently working on the series and everything seems to be moving along nicely.
Also mentioned in this post is that they said Paper Girls will arrive on Amazon Prime in 2022. While that may confirm the expectation that the series is expected to stream in 2022, we'll have to wait and see what Amazon announces in the future.
Paper Girls Will Star Sofia Rosinsky, Camryn Jones, Riley Lai Nelet, And Fina Strazza
According to Deadline, the four leads of the show have been picked to portray the titular Paper Girls that we will be following along their journey.
Sofia Rosinsky, who's known for her role in Fast Layne, will star as Mac Coyle, a working-class Catholic girl and the first paperboy in their town that isn't a boy, inheriting the paper route from her older brother. Camryn Jones, known for her role in Cherish the Day, will star as Tiffany Quilkin, who is the only child of success-oriented mixed-race parents, is super intelligent, and has been delivering papers for a little over a year.
Riley Lai Nelet, who had a role in Altered Carbon, will portray Erin Tieng, a dual-language immigrant who is a new employee of the paper-delivery service. Fina Strazza, known for her part in A Christmas Melody, will play KJ Brandman, one of the only Jewish girls in their town, and comes from a wealthy family.
With such different backgrounds for all the girls here, I'm interested to see how all of their stories are going to intercross and mingle with each other. One can only imagine what adventures their time-travel escapades are going to get them into.
The Paper Girls Cast Also Includes Ali Wong And Nate Corddry
While the cast for the main four girls has been announced, not much is known about the rest of the cast for Paper Girls. However, we do know a couple of additional cast members that are set to join the Amazon adaptation.
According to Variety, comedian and actress Ali Wong has signed onto Paper Girls, where she will play the adult version of Erin in the future world, where the younger version of her and the older version will come face-to-face.
Joining Ali Wong will be Nate Corddry. According to Deadline, Corddry, known for his role in For All Mankind, has signed on for the role of Larry, a member of the Underground, a secret organization that is dedicated to helping one side win the Time War, of which the four girls suddenly find themselves a part of.
While I'm sure there will be more announcements of the cast as the Paper Girls premiere comes closer, this is all we can confirm for now. Even so, just the description of their characters has been excited to see what stories they will bring to the table.
Georgi Banks-Davies Has Joined As A Director
Another piece of information that we have acquired is that the Paper Girls adaptation has actually signed on a director for the series already. Georgi Banks-Davies, known for her British dark comedy-drama series, I Hate Suzie, is going to be acting as a director for the upcoming series.
In a post she put up on her Instagram, Banks-Davis commented "This show is fun…" alongside a picture of a chair that says "DIRECTOR," and a pink bicycle, which is a direct reference to the comics themselves. On July 21, she posted a photo and mentioned that she finished directing the opening block of Paper Girls episodes:
Stephany Folsom, Christopher Cantwell, And Christopher C. Rogers Will Serve As Co-Showrunners
The showrunner of a television show is usually the person who calls all the shots, but for Paper Girls, that role will be shared by three people. Stephany Folsom (who previously co-wrote the script for Toy Story 4), Christopher Cantwell, and Christopher C. Rogers are all going to be co-showrunners for the series, according to Deadline.
In a statement released by the three, they talked about their eagerness to bring the comic book to life through Amazon.
When it comes to the 2021 fall TV schedule, it's highly unlikely Paper Girls will be making an appearance among those shows, but at least we can sit well with the knowledge that this adaptation is up and running and hopefully will be arriving to our TV's soon enough. What are you excited for the most about this upcoming series?
Your Daily Blend of Entertainment News
Big nerd and lover of Game of Thrones/A Song of Ice and Fire. Will forever hate season eight. Superhero and horror geek. And please don't debate me on The Last of Us 2, it was amazing!