Marvel's Ironheart TV Show: 6 Quick Things We Know About The Disney+ Series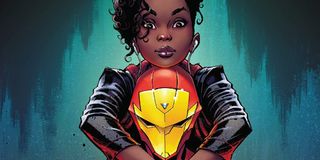 Back when the Marvel Cinematic Universe first got underway with the 2008 release of Iron Man, few people besides maybe Kevin Feige knew how popular, and expansive, it would become. More than a decade later, Iron Man has come, saved the world and universe, and gone, leaving behind a legacy that is about as rich as anyone could imagine but also a hole in our hearts and a lack of a tech-savvy superhero with an amazing suit of armor. Well, until the Ironheart TV Show on Disney+ arrives at some point in the near future.
Is this the first you are hearing about Ironheart or maybe forgot about it in the months following the show's reveal at Disney's 2020 Investor Call? Fear not, young comic book fan, as we have put together a comprehensive list of everything we know about the upcoming Disney+ series with much more on the way. Here are six quick things to know about Ironheart.
Dominique Thorne Leads The Ironheart Cast
Not long after Marvel announced the Ironheart TV Show on Disney+ back in December 2020, the studio revealed that Dominique Thorne had landed the starring role of Dominique Thorne, better known as Ironheart. Thorne, who previously appeared in Oscar winners If Beale Street Could Talk and Judas and the Black Messiah, told BlackFilmandTV in February 2021 that she was raised by Marvel fans and that being cast in such an important role was inspiring, stating:
Dominique Thorne followed up those comments by saying that while she had already run through as many comics as she could, she was ready to do even more research into the character. What makes this even better is the fact Marvel contacted Thorne about the role and she didn't even have to audition.
Ironheart Will Tell The Story Of Inventor Riri Williams
When Ironheart finally lands on Disney+ at some point in the near future, it will tell the story of Riri Williams, a super intelligent teenage tech prodigy who is much more than just the new Iron Man (though she was trained by an A.I. version of Tony Stark in the comics). Riri's story in the comics is the one, that like the best Marvel superheroes, consists of a strong and confident hero whose life has been impacted by tragedy and their own call to action (in this case the death of Riri's best friend, Natalie, and step-father, Gary). How the show will handle both of those parts of Ironheart's story remains to be seen but it could be a cool way of bringing Robert Downey Jr. in for a cameo.
Chinaka Hodge Will Serve As Ironheart's Head Writer
In April 2021, Variety reported that poet, screenwriter, playwright, and educator Chinaka Hodge had signed on to serve as Ironheart's head writer. Prior to landing the gig that will see her craft the story about a teenage prodigy creating an advanced suit of armor, Hodge made a name for herself with shows like Apple TV's Amazing Stories and the TNT adaptation of Snowpiercer, where she served as as an executive story editor and staff writer, respectively. Hodge has also released two books of poetry and multiple plays throughout her career. She also helped start up the hip hop collective The Getback with Snowpiercer and Hamilton star Daveed Diggs.
Ironheart Will Consist Of Six Episodes
Although we don't yet know when Ironheart will premiere on Disney+, we do know the show will be like several of its Marvel predecessors in that it will consist of six episodes, according to The Hollywood Reporter. It remains to be seen exactly how long each of these six installments will be, but considering shows like Loki and The Falcon and the Winter Soldier, which both had six-episode seasons, each episode will most likely be anywhere from 45 to 60 minutes in length. Expect to hear more about this in the coming months, especially with production reportedly kicking off at some point in Spring 2022, per Murphy's Multiverse.
Ironheart Is One Of Several Upcoming Marvel TV Shows And Movies Focused On Women Of Color
When Ironheart is released, it will be one of many upcoming Marvel TV shows and movies that will focus on girls and women of color, making the Marvel Cinematic Universe an even more diverse place. One of those shows — Ms. Marvel — is expected to debut on Disney+ at some point by the end of 2021 and will serve as not only an introduction of Kamala Khan's (Iman Vellani) titular hero but also help set up The Marvels movie, which is scheduled to be released in November 2022. The Marvels, which was once called Captain Marvel 2, will also see the return of Teyonah Parris's Monica Rambeau who became one of the most talked about characters on WandaVision earlier in 2021.
And who knows, maybe this will lead to the formation of The Champions at some point down the road, especially with multiple members of the supergroup being introduced in Disney+ series in the very near future.
MCU Stars Robert Downey Jr. And Tom Holland Have Long Called For Ironheart's Debut
Riri Williams will soon be one of the major players in the Marvel Cinematic Universe, but a couple of the MCU's biggest stars have been calling for the inclusion of Ironheart for some time now. Just a couple of months after his character sacrificed himself to save the universe in Avengers: Endgame, Robert Downey Jr. spoke at the Gene Siskel Film Center gala in June 2019, where he said Ironheart should be introduced to the franchise.
Tom Holland, who appeared alongside Robert Downey Jr. in some of the best Marvel movies, told Fandom later on in June 2019 that Riri Williams would be a cool person to bring into the MCU and that the multiverse opens up a lot of possibilities for characters like Ironheart. Like Holland said, the possibilities are pretty much endless here.
There is still a lot about Ironheart that we don't know at this point, but when new information becomes available you will be able to find it here. In the meantime, there's never been a better time to go back and watch all the Marvel movies in order while we wait for news on Ironheart and the rest of the upcoming Phase 4 movies and TV shows.
Philip grew up in Louisiana (not New Orleans) before moving to St. Louis after graduating from Louisiana State University-Shreveport. When he's not writing about movies or television, Philip can be found being chased by his three kids, telling his dogs to stop yelling at the mailman, or yelling about professional wrestling to his wife. If the stars properly align, he will talk about For Love Of The Game being the best baseball movie of all time.
Your Daily Blend of Entertainment News
Thank you for signing up to CinemaBlend. You will receive a verification email shortly.
There was a problem. Please refresh the page and try again.