Kim Kardashian Reveals The One Mistake That Led Everyone To Think She's Late All The Time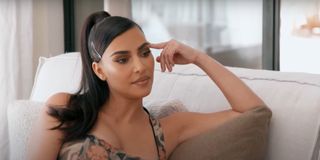 (Image credit: E!)
A lot of people have opinions and perceptions about Kim Kardashian. Her fashion style, for one, has long been considered as a reflection of Kanye West's. (Though she supposedly has been reclaiming the "old Kim" style in the wake of their divorce.) Apparently, too, a lot of people think she's the kind of person who is always late, but Kardashian traced that misconception back to one tiny mistake on her part.
On the We Are Supported By podcast, hosts Kristen Bell and Monica Padman got to the bottom of the legendary tale behind Kim Kardashian's supposed lateness. It started, of course, by Kardashian being late for their interview. She apologized, saying she's "been late to something one time in my life and this is the second time." She also stated that being late was not her "style" and the incident had in fact "ruined" her whole day.
Kristen Bell and Monica Padman were pretty light-hearted about the relatively harmless snafu that we all are guilty out from time to time. Nevertheless, Kim Kardashian decided to debunk the conception of her being a late person and it seems Keeping Up with the Kardashians is to blame. (Not Kris Jenner – this time.) She said,
Kim Kardashian's reputation for being late was likely just a running joke with the cast/her family and crew on Keeping Up with the Kardashians. Just like how Khloe Kardashian was known as the ultimate prankster and Kourtney Kardashian was the black, grumpy sheep of the family. Keeping Up with the Kardashians ended its 20-season run on E! earlier this year, but at least now we can all sleep soundly knowing that rumors of Kardashian's time management skills are put to rest.
The last season of Keeping Up with the Kardashians didn't show Kim Kardashian showing up anywhere late, to my knowledge, but it did show a lot concerning her marriage to Kanye West. The two were never seen together on-camera, what with West living in a whole other state and Kardashian even attempting to dodge discussing their issues early on. However, fans eventually saw Kardashian having odd phone conversations and full-on emotional breakdowns. Their problems were thought to be the result of West's controversial tirades last year, although Kardashian has since said that they divorced because of a mere "difference of opinions."
Yet Kim Kardashian was on time for a few of Kanye West's events recently. Namely, she showed up to his Donda album listening parties, the second of which featured Kardashian in a particularly crazy incognito outfit. Fans made their jokes on the seemingly awkward situation, but Kardashian supposedly had creative input on the album in question.
The Kardashian-Jenners were already making money moves before Keeping Up with the Kardashians even ended. The reality TV family inked a multi-year deal with Hulu last year for an unknown new project. With Kim Kardashian's lateness cemented as folklore, maybe too we'll see if her issues with Kanye West are well and truly done as well.
I am a vegan feminist. I'm fascinated by all things space/stars. I love film history, reality television, and my cat Bubbe.
Your Daily Blend of Entertainment News
Thank you for signing up to CinemaBlend. You will receive a verification email shortly.
There was a problem. Please refresh the page and try again.