Upcoming Dakota Fanning Movies And TV: What's Ahead For The Alienist Star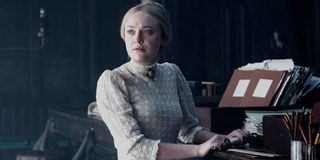 CinemaBlend participates in affiliate programs with various companies. We may earn a commission when you click on or make purchases via links.
Dakota Fanning represents a rare breed of actor who began as a child star and successfully transitioned into an equally promising adult talent. The Alienist is just one of Dakota Fanning's recent projects that have gained the actress new fans and admirers. She played Sara Howard, alongside Luke Evans and Daniel Bruhl, for two seasons of The Alienist. There has been no official word on whether The Alienist will get a third season. However, fans of the show and the young actress have plenty of Dakota Fanning projects to look forward to, such as Ripley.
There are some very exciting Dakota Fanning movies and TV shows being released in the next few years. She will be appearing in several television and film adaptations of beloved books, like a TV show based on the Tom Ripley novels and a film of the best-selling novel, The Nightingale. Fanning will also be expanding her brand to include a media company, where she'll be producing a variety of projects. Let's look at some of the highly anticipated upcoming Dakota Fanning movies and TV shows.
Gen: LOCK - Fall 2021 (Post-Production)
gen: LOCK is a Rooster Teeth animated series that began in 2019. It features an all-star cast of voice actors, led by Michael B. Jordan. The gen: LOCK voice-cast also includes Dakota Fanning, Maisie Williams, and David Tennant. Set 50 years in the future, the series sets up a dystopian universe where a group called Polity fights with another group called the Union. The entire first season of gen: LOCK is currently available to stream on HBO Max.
In July 2021, for its Comic-Con presentation, HBO released a trailer for season 2. The trailer revealed that the series will return in fall 2021. Though it mainly focused on Michael B. Jordan's character, Julian Chase, Fanning spoke a little about her character, Miranda Worth, at the Comic-Con virtual panel. In season two, Miranda will explore her inner struggles, specifically when it comes to her morals versus her career and relationships.
gen:LOCK Season 2 will showcase Miranda being pulled in different directions and how she navigates these different choices.
The First Lady - TBD (Filming)
The First Lady is an upcoming Showtime anthology series. It explores presidents and history through the lens of the first ladies who helped them rule. The series features an all-star cast and focuses on such presidents as Barack Obama, Gerald Ford, and Franklin D. Roosevelt. The first season will specifically focus on Michelle Obama, Betty Ford, and Eleanor Roosevelt.
These first ladies will be played by Viola Davis, Michelle Pfeiffer, and Gillian Anderson. The First Lady will be an hour-long drama that may air on Showtime as early as fall 2021. It began filming in February 2021. Dakota Fanning will play Susan Ford, the daughter of Gerald and Betty Ford. She will be a series regular appearing in six episodes.
The First Lady all-star cast also includes Aaron Eckhart, Judy Greer, and 24 vet, Kiefer Sutherland.
The Nightingale - December 23, 2022 (Pre-Production)
Dakota Fanning will appear for the first time on-screen with her sister Elle Fanning, as the real-life sisters will play fictional siblings, Vianne Mauriac and Isabelle Rossignol, in The Nightingale. The film will be the screen adaptation of Kristin Hannah's best-selling novel of the same name. In 2019, THR reported that the Fanning sisters would be the leads, and that Melanie Laurent would direct. Dana Stevens will pen the script.
The Nightingale novel was released in 2015, and TriStar Pictures bought the rights for a screen adaptation soon after its publication. The film was pushed back a few times, eventually becoming a 2021 release. However, in February 2021, TriStar, a company owned by Sony, pushed it to December 23, 2022. Now it's one of the most anticipated upcoming 2022 movies.
Ripley - TBD (Pre-Production)
Since 2019, a Showtime series based on Patricia Highsmith's Tom Ripley novels has been in the works. However, since 2015, a television series based on the novels has been discussed. Showtime cast Andrew Scott to play the title character with Oscar-winning screenwriter, director, and film editor Steven Zaillian set to write and direct the entire first season. In 2020, Johnny Flynn joined the cast and in 2021, Deadline noted that Dakota Fanning joined.
Flynn will be playing Dickie Greenleaf, and Fanning will play Marge Sherwood. Ripley, Dickie, and Marge are the three main characters in The Talented Mr. Ripley, the first book in Highsmith's series. These characters were played by Matt Damon, Jude Law, and Gwyneth Paltrow in the 1999 film adaptation.
The Showtime series Ripley will take inspiration from all five of Highsmith's Tom Ripley novels. The basic premise of Ripley is that Tom Ripley is a 1960s con artist who is hired by a wealthy man to go to Italy and convince the man's son, Dickie, to return home. Eventually, this leads to Ripley's life of fraud and murder. The first season will have eight episodes. No word yet on a premiere date, but I would assume that it's likely to premiere sometime in 2022.
I've Got Your Number - TBD (Pre-Production)
In September 2020, Deadline reported the plans to adapt Sophie Kinsella's novel I've Got Your Number. Kirsten "Kiwi" Smith and Jessica O'Toole will write the script. Dakota Fanning and Freddie Highmore will star and act as producers on the film.
I've Got Your Number is a romantic comedy about two strangers who meet while one of them is engaged. It starts with a lost engagement ring and a stolen cell phone, and things just escalate from there. Sophie Kinsella is best known for her Confessions of a Shopaholic series, which was adapted in 2009, and starred Isla Fisher and Hugh Dancy. The film will be released on Amazon Prime.
In March 2021, Dakota and Elle Fanning launched a production company with Civic Center Media/MRC Television called Lewellen Pictures. The production company announced that the Fanning sisters will be developing and producing an array of movies, televisions shows, and even podcasts. They will also be bringing some of their existing projects to the company. One of those projects is I've Got Your Number.
The Last House Guest - TBD (Announced)
With the announcement of the Fanning sisters' production company came news that one of their first major projects will be acting as producers on the adaptation of Megan Miranda's novel The Last House Guest. It's being developed as a crime thriller series that focuses on two girls whose friendship spirals into betrayal and tragedy.
Since the announcement of the project in March 2021, there haven't been any new major developments. We also don't know yet if either Fanning sister will star, or if they'll just act as producers for the show.
The Bell Jar - TBD (Announced)
In July 2016, it was announced that Kirsten Dunst would make her feature directorial debut with an adaptation of The Bell Jar with Dakota Fanning as the lead character, Esther Greenwood. By October 2016, IndieWire reported that Jesse Plemons had joined the cast in the role of Lenny Shepherd. The project was shaping up quite nicely, but in 2019, Dunst was out as director.
Dunst told Entertainment Weekly "I never owned (the rights), so it went away for me. It went to others' hands." In its current form, The Bell Jar is supposed to be a limited Showtime series with Fanning still set to star. As of August 2021, there haven't been any new developments on The Bell Jar adaptation.
Dakota Fanning doesn't have any upcoming 2021 movies but she has plenty of upcoming TV series and 2022 movies to get you excited. You can catch up on The Alienist through a TNT cable subscription or purchase episodes of the series on Amazon.
Spent most of my life in various parts of Illinois, including attending college in Evanston. I have been a life long lover of pop culture, especially television, turned that passion into writing about all things entertainment related. When I'm not writing about pop culture, I can be found channeling Gordon Ramsay by kicking people out the kitchen.
Your Daily Blend of Entertainment News
Thank you for signing up to CinemaBlend. You will receive a verification email shortly.
There was a problem. Please refresh the page and try again.