Kim Kardashian Called Out By Sisters Kourtney And Khloe For Claims About A Wild Night Out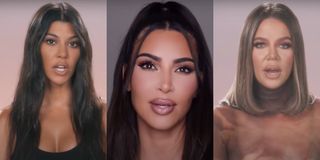 (Image credit: E!)
The Kardashian family's lives are well-documented thanks to Keeping Up with the Kardashians, which concluded its 20-season run back in June. But the antics of Kim, Khloe, Kourtney, and the rest of the Kardashians prior to their reality TV fame are not as notorious. Apparently, not even to themselves, either – because Khloe and Kourtney just called out Kim for seemingly leaving out some important details concerning a wild night out in college.
…Who hasn't been there, amirite? In all seriousness, the party night dispute first started with Kim Kardashian posting a throwback photo from Kourtney Kardashian's University of Arizona days. As Kim tells it, she was the designated driver to the wild night in question and it was enough to keep her from wanting to drink or party herself "EVER" – at least at that time. (Supposedly, Kim is also never EVER late, as well.) See the truly unrecognizable Kardashian sisters below:
Kim Kardashian left out some particulars and people, though, according to her sisters. In the comments of the post, Khloe Kardashian quickly retorted, "I was there that night too bitch." Similarly, Kourtney Kardashian had some interesting tidbits to add to the timeline. Kourtney wrote on her Instagram Stories about that night (via ET Online):
The sisterly back and forth continued, this time on Kim Kardashian's Instagram stories. This time she also remembered that Khloe Kardashian may or may not have been there. She wrote,
On Instagram, Khloe Kardashian presented her own throwback pic of the same night. The youngest Kardashian sister is, in fact, nestled right between Kim and Kourtney. See her post below:
Kourtney Kardashian commented on Khloe Kardashian's post that it was "the night of the Khlo-motion party where we put Jungle Juice in the water cooler!" So many ambiguous words and clues... And it only got worse when Khloe replied back, saying,
So it seems that Kim Kardashian's initial reporting on college partying days may not be so accurate. What else are sisters for but to call out the narrative of a crazy night out told over a decade later? I don't know about anyone else, but I would have loved to see a Keeping Up with the Kardashians: College Years version. If Saved By The Bell could do it…?
I am a vegan feminist. I'm fascinated by all things space/stars. I love film history, reality television, and my cat Bubbe.
Your Daily Blend of Entertainment News
Thank you for signing up to CinemaBlend. You will receive a verification email shortly.
There was a problem. Please refresh the page and try again.