DC's Legends Of Tomorrow Just Gave Fans Something Nearly As Great As The TV Show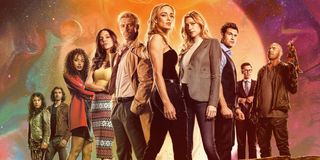 Underdog Arrowverse series DC's Legends of Tomorrow is by far the least serious of the CW superhero series. Between overgrown blue toys and unicorns, Legends remains a one-of-a-kind show on the network. And now the series has gone into brand new territory for fans to enjoy from home at their leisure: the streaming music world.
Yes, Legends of Tomorrow quietly dropped the soundtrack called DC's Legends Of Tomorrow: The Mixtape, and fans can now listen to songs from the series including "Mr. Parker's Cul-De-Sac," "The Fairy Godmother," "Puppets of Tomorrow" and "I Surrender." The soundtrack is available on both Spotify and Apple Music in all its insane glory. And it's almost as great as the series itself.
Another song on the soundtrack is "Amazing Grace," performed by Degrassi's Luke Bilyk who played Legends of Tomorrow's one and only King of Rock 'n Roll, Elvis Presley. The Season 3 song takes fans back to a somewhat simpler time on Legends, when the team included Zari 1.0, Wally West, and Amaya. The episode is deemed by some fans as one of the show's best as the Legends tried to save the King's career following a lost totem. Like a lot of the storylines on the show, the episode also touched on a true story about Elvis Presley, when his twin brother, Jesse, was stillborn.
A song on the soundtrack that is bound to go on repeat for some fans is of course "Mr. Parker's Cul-De-Sac." The Mister Rogers' Neighborhood parody is surprisingly catchy and Brandon Routh made a perfect Mr. Parker when he found himself in the kids' show. While nothing will ever compare to Mister Rogers, Mr. Parker's Cul-De-Sac did come close. But it was pretty hilarious to see Ray Palmer parody the legendary host, and fans even got a great song out of it.
Legends of Tomorrow is definitely known for some crazy and insane storylines that are still hard to believe actually happened. One of them was when the team got turned into puppets, temporarily. This resulted in the majority of the team bursting into song about asking for help and singing about the "Puppets of Tomorrow." They also acted like they were on a kids' show and it was quite hilarious. Fans will be happy to know that they will now be able to listen to the "Puppets of Tomorrow" whenever they want.
One song that many fans have loved since hearing it is the Bollywood-themed tune of "I Surrender," featuring the voices of half the Legends of Tomorrow cast. While the episode consisted of a Jane Austen plotline, the random song is actually pretty beautiful. And fans can finally listen to it as much as they want. DC's Legends Of Tomorrow: The Mixtape includes 21 songs from the CW series, so fans will be able to take Legends wherever they go. And it's pretty awesome.
Your Daily Blend of Entertainment News
Passionate writer. Obsessed with anything and everything entertainment, specifically movies and television. Can get easily attached to fictional characters.