Disney+'s A Droid Story: 7 Questions We Have About The Star Wars Special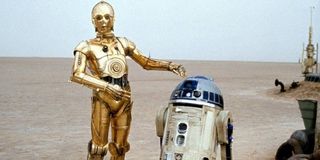 If there's one area where Star Wars massively succeeds, it's the world of animation. The past decade has seen Lucasfilm Animation deliver some truly compelling content, and the studio is showing no signs of slowing down. And the franchise is now looking to expand with some more unexpected projects, like the animated LEGO specials. Well, now, fans can look forward to another special in the form of A Droid Story. The Star Wars TV special, which will air on Disney+, gives fans the opportunity to reunite with two of the franchise's most beloved characters for a brand-new adventure. Unfortunately, very few details have been released thus far, which leaves us with a number of questions.
When it comes to Lucasfilm's slate of Star Wars movies and TV shows, A Droid Story is definitely one of the projects we know the least about. Studio president Kathleen Kennedy announced it during Disney's Investor Day livestream last year and confirmed that it would center on droids R2-D2 and C-3PO, as they help guide a new character. It may not seem like a lot to go on, but it's certainly enough to get us wondering about a few things. So let's dive into the questions we have right now:
What Is A Droid Story's Disney+ Release Date?
Having a large slate means Lucasfilm has to be diligent when it comes to scheduling certain projects. In the grand scheme of things, Star Wars: A Droid Story is honestly one of the more low-profile productions, compared to the likes of The Book of Boba Fett or Ahsoka. A 2021 release date seems unlikely at this point, as we likely would've gotten an announcement of some kind at this point. If anything, 2022 seems like the more likely place for it to land. History also tells us that Lucasfilm likes to release specials near the end of a calendar year so, more specifically, it could fall somewhere in the late 2022 window. Of course, the company could always surprise us and drop it sooner.
What Kind Of Animation Style Will Star Wars: A Droid Story Have?
Over the years, Lucasfilm has dabbled in different forms of animation, when it comes to its projects. Star Wars: The Clone Wars arguably helped make CGI the standard for the studio, though recent shorts like the Forces of Destiny series have been 2D. Later this year, we'll also see Visions, which will meld the world of Star Wars with anime. What's interesting about A Droid Story is that it will feature significant behind-the-scenes contributions from visual effects company Industrial Light & Magic (ILM). With that in mind, there's reason to believe the special will also be computer animated. Then again, if this production is as unique as it sounds, it could also feature a combination of both CGI and 2D animation.
How Long Will The Star Wars Special Actually Be?
The actual length of a TV special can be hard to predict. Some fit firmly into that half-hour time slot, while others can run closer to an hour. When it comes to Star Wars: A Droid Story, it's best to look to the LEGO specials when forming a time estimate. Some of the specials have been around 30 minutes, yet the more recent Lego Star Wars Holiday Special was around 48 minutes. Considering that Lucasfilm is promoting A Droid Story as a groundbreaking event that represents "the intersection of animation and visual effects," the studio could be looking to do something longer here.
How Does A Droid Story Fit Into The Star Wars Timeline?
Determining A Droid Story's place in the greater Star Wars timeline actually isn't as easy as you might think. The reason for this is that unlike most of the franchise's characters, R2-D2 and C-3PO have been around for every trilogy. As a result, their latest outing could take place within pretty much any subsection of the prequel, original or sequel trilogy. However, since the two are said to be starring alongside a new character, it is possible the special could take place sometime after the events of 2019's The Rise of Skywalker. Placing it in this part of the timeline would make sense, especially since it's a period of time that's ripe for storytelling.
Will Anthony Daniels Return To Voice C-3PO?
As previously mentioned, C-3PO is a Star Wars icon, and this is due in large part to the A+ work by the actor behind the droid, Anthony Daniels. Since 1977, Daniels has appeared in every live-action Star Wars movie, the only franchise star to have done so. So with his famous character getting the spotlight once more, what are the chances of the 75-year-old actor reprising the role again? Well, they're actually pretty solid. Daniels has also voiced 3PO in a myriad of animated projects, with his most recent project being last year's LEGO Star Wars Holiday Special. So while it's yet to be confirmed, Daniels seems like a shoo-in for A Droid Story.
Will A Droid Story's New Character Be A Jedi?
The biggest mystery surrounding A Droid Story arguably relates to the new character that's going to be introduced. Since R2-D2 and C-3PO are going to be serving as guides for the character, it may be fair to assume they'll be on the younger side. But you can't help but wonder if this is a person who will wield a blaster or a lightsaber. Making this newcomer a prospective Jedi would be interesting, but it would honestly be the obvious choice. The two faithful droids have assisted many people in their time, including Jedi, senators and rebels. But regardless of what this character turns out to be, they're sure to be a force for good in the galaxy moving forward.
Will Other Veteran Star Wars Characters Appear?
Of course, when you're dealing with a Star Wars project, there's always the potential for familiar faces to show up. This has happened quite often in The Mandalorian, but animated shows like Rebels and The Bad Batch have also featured massive cameos. This could very well mean that A Droid Story will follow suit. Because we've yet to learn when the Disney+ special takes place, we can't say for sure who may show up. Still, C-3PO and R2-D2 have ties to plenty of people in the galaxy, meaning the cameo possibilities are just about endless.
The prospect of another animated Star Wars project is exciting, especially one that's set to utilize cutting-edge technology from a company like ILM. Let's hope Lucasfilm drops more information on A Droid Story soon. In the meantime, you can read up on all of the other Disney+ productions that have been announced and check out our 2021 fall TV schedule to see what's coming to the small screen before the end of the year.
Covering superheroes, sci-fi, comedy, and almost anything else in film and TV. I eat more pizza than the Teenage Mutant Ninja Turtles.