Anne Heche And James Tupper Team Up For Girl Fight On Lifetime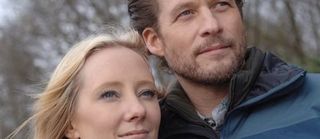 It looks like Lifetime is planning their own version of a Tosh.0's web redemption* with Girl Fight. The new original, made for TV, movie tells true story of Victoria Lindsay, a (then) sixteen girl who was viciously assaulted by her 'friends' while they recorded the whole thing for... posterity?
Deadline (opens in new tab) reports that Anne Heche and James Tupper are attached to play Lindsay's parents (coincidentally enough, Heche and Tupper are actually together) in the film written by Benita Garvin and Teena Booth. Apparently, after making some flippant remarks about one of them on her MySpace page (oh no!), Victoria Lindsay was then accosted by her fellow cheerleaders and has been dealing with the fallout ever since. They say that payback's a bitch... in this case, payback is 8 bitches who accuse you, beat you and then upload the whole event to YouTube (opens in new tab). So, payback is 8 stupid bitches.
*For those who don't know what the hell I'm talking about when I say Tosh.0 or web redemption... Tosh.0 is a show on Comedy Central that delivers the best, or worst, videos that can be found on the internet and a web redemption is a segment when one of the publicly ridiculed get to come on his show and make peace, get revenge or try and reclaim some dignity (often with the opposite result).
Your Daily Blend of Entertainment News
Thank you for signing up to CinemaBlend. You will receive a verification email shortly.
There was a problem. Please refresh the page and try again.