Avengers Assemble And Ultimate Spider-Man Renewed, Ultron And More Added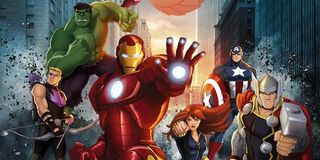 While Marvel continues to expand its live-action projects with the Marvel Cinematic Universe, the animated shows on Disney XD are still going strong. Now the younger fans can look forward to more installments of several these shows, as it's been announced that Avengers Assemble and Ultimate Spider-Man have been renewed for Season 3 and Season 4, respectively. The new seasons are currently in production, and when both shows return, they will be rocking new names and new threats.
For its third season, Avengers Assemble has been renamed Avengers: Ultron Revolution. Not only will Earth's Mightiest Heroes be shocked to find the season's titular nemesis has returned, but they will also find themselves facing new adversaries like Baron Zemo, the Masters of Evil, the Inhumans, and the futuristic Kang the Conqueror. Fortunately, they will be aided by heroes like Black Panther, Captain Marvel, Ant-Man and Ms. Marvel, but eventually our heroes will turn against heroes in a mysterious "Civil War."
Having Ultron as the main antagonist for the Avengers makes sense in terms of synergy across their projects. After all, the megalomaniacal robot just fought them on the big screen in Avengers: Age of Ultron, so now it's time to place him in the spotlight for the animated universe. The other named enemies have given the superhero team their fair share of trouble in the comics as well, though I imagine this feud with the Inhumans will only be temporary, since with a few exceptions, most of them aren't bad guys. It's also amusing that this Civil War will presumably be happening around the time that the same conflict will be happening on the big screen in Captain America: Civil War.
Meanwhile, Ultimate's Spider-Man's fourth season will be called Ultimate Spider-Man vs. The Sinister 6. When Season 4 starts, Spidey feels like he's living the good life as a member of The Avengers and as leader of a team of heroes at S.H.I.E.L.D. Academy. That will change when the Web Slinger's greatest enemies - which include Doctor Octopus, Hydra and an "all-new Sinister 6" - team up to destroy him and S.H.I.E.L.D. To combat them, Spider-Man will call upon several Spider-allies like Miles Morales, Agent Venom, Iron Spider and the "mysterious new Scarlet Spider."
For Ultimate Spider-Man Season 4, the emphasis will be on Spidey dealing with his enemies, who have decided that it's better to work together to take down the Wall-Crawler rather than continue operating solo. Most of the Spidey allies mentioned were introduced during Season 3, subtitled Web Warriors, but it's this Scarlet Spider that's especially intriguing. In the comics, the two most well-known Scarlet Spiders have been Peter Parker's clones Ben Reilly and Kaine. Will one of them be the Ultimate Spider-Man Scarlet Spider, or will it be someone else underneath the mask?
You can catch Avengers: Ultron Revolution and Ultimate Spider-Man vs. The Sinister 6 on Disney XD in 2016.
Your Daily Blend of Entertainment News
Connoisseur of Marvel, DC, Star Wars, John Wick, MonsterVerse and Doctor Who lore. He's aware he looks like Harry Potter and Clark Kent.