Four More Drama Pilots Greenlighted At ABC, Including Devious Maids And Gotham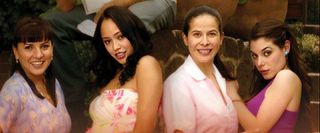 It's four more pilots for ABC today, all hour-long dramas. Among them are Devious Maids, based on a Mexican telenovela, and Gotham, which has magic at its center rather than a masked superhero. This should be it for drama pilots at the network this season, and there are certainly some interesting ones here.
Deadline reported on the pilot orders; expected to cap off ABC's drama greenlights for the season.
Devious Maids centers on a group of 4 Latina women working in Beverly Hills, and comes from Desparate Housewives creator Marc Cherry. It is said to be only loosely based on the Mexican series The Disorderly Maids of the Neighborhood, which features five maids who get involved in a murder mystery in the condominiums where they work. Sounds like Cherry has found some new ladies to replace those of Wisteria Lane perhaps?
Following in the magical footsteps of Once Upon a Time, Gotham will tell the story of a female cop who stumbles upon a magical world hidden in New York City. The American version of Diagon Alley? Hard to say since the details are sparse at the moment, but the name hints at something of a darker nature.
Zero Hour, from Paul Scheuring, is about the editor of a magazine for skeptics who suddenly finds himself drawn into a major conspiracy. And finally, Penoza, which is based on a Dutch series entering its second season, revolves around a woman who steps into her husband's criminal shoes to protect her family after he is assassinated. Melissa Rosenberg, who wrote for the Twilight franchise, is behind this one. Although I'm not sure if that's much of a credit to her.
With ABC's drama pilot orders at an end, we can now only wait and see what comes of all these new projects.
Your Daily Blend of Entertainment News