Fuller House Is Definitely Bringing Back One More Beloved Thing About The Original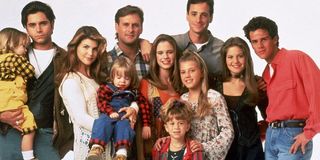 Recent years have seen reboots and spinoffs and restarts of franchises large and small. One blast from the past project that should be particularly fun is Fuller House, Netflix's upcoming revisit to the world of the extended Tanner family of Full House. Spoilers and tidbits have been dropping over the past few months, but one classic aspect of the original show that has been missing has been the actual iconic house. Not anymore!
Luckily for those of us who have ever dropped a "How rude!" or "Have mercy!" at some point in our lives, Fuller House star Candace Cameron Bure took to Instagram to post a picture of the latest addition to the new show.
What's a Full House continuation without the full house? It's impossible to imagine the shenanigans of Danny Tanner and Co. without the San Francisco home in the background.
Of course, Fuller House could have been set in an Antarctic igloo and there would have been no confusing it with anything other than a continuation of Full House. The original saw a widower joined by his best bud and brother-in-law to assist in raising three young girls without their mother, and the exploits of the expanded family carried the series for eight seasons from 1987 to 1995.
Fuller House has not been contracted for eight seasons, but the 13-episode run is a heck of a good place to start. The premise will already be plenty familiar to anybody who has ever caught a rerun of the original, featuring widow D.J., sister Stephanie, and best gal pal Kimmy with their own adventures in raising D.J.'s two boys and newborn. The original triumvirate of Danny, Jesse, and Joey will drop in on the ladies from time to time, and it looks as though all of the principal characters aside from Michelle with appear at some point.
All things considered, Fuller House was not designed to be a groundbreaking new show. The revisiting of the premise that worked for Full House, as well as much of the cast returning for another go at family-friendly entertainment, have been the biggest appeals of the project as production has moved forward; the addition of the original Full House house is just one more touch of nostalgia to make sure that Fuller House will be an unforgettable return to one of the most enjoyable family dynamics of television history.
Sadly, there was no follow-up Instagram post to show whether or not Warner Brothers is also working on a full-scale model of the Olson twins.
Resident of One Chicago, Bachelor Nation, and Cleveland. Has opinions about crossovers, Star Wars, and superheroes. Will not time travel.