Lost Actor Joins Scandal For Season 4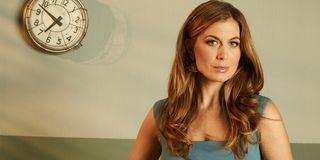 Scandal has added yet another great guest star in a mystery role. Sonya Walger, who was recently seen in a recurring guest spot on Parenthood, is headed to the ABC drama for its third season.
Details on Walger's role in Scandal are being kept under wraps, as is any information on when we'll actually get to see her in the series, but TVLine says it's a "potentially recurring" role for the actor, and they speculate that this might be an indication that she has ties to one of the regulars.
Factoring Walger's ability to play kind and gentle as well as she can play someone a bit more mysterious and possibly even sinister, it's really hard to guess what kind of character she's set to portray in ABC. Maybe I have her Common Law role in mind, but I have an easy time picturing her playing someone's therapist. Then again, she could just as easily be playing a love interest, or even a client. Perhaps she's involved in politics or the Washington D.C. scene in some other way. There are so many characters and developing stories in the series. We can only guess and wait until she pops up in Season 4.
Walger joins Portia de Rossi, Mary McCormack and Josh Randall among the notable guest stars lined up to appear in Season 4 of Scandal. Walger's certainly no stranger to ABC. The actor played Desmond's true love, Penny, in ABC's Lost. As TVLine notes, Henry Ian Cusick, who played Desmond in Lost, used to star in Scandal, though he's no longer on the show. It's too bad when factoring in this casting, as it would've been great to see the two actors reunited on screen.
Sonya Walger's other credits include Tell Me You Love Me, Sleeper Cell, Terminator: The Sarah Connor Chronicles, FlashForward and the mentioned Dr. Elise Ryan in USA's short-lived buddy cop series Common Law.
More recently, we've seen Walger cozying up to Joel as Meredith Peet on NBC's Parenthood. TVLine says she's expected to recur on Parenthood in its upcoming season this fall, so it sounds like we'll be seeing twice the Walger on network TV in the coming months.
On the Scandal front, we know a few vague things about Season 4, including that the title of the season premiere will be "Randy, Red, Superfreak and Julia," and that Columbus Short, who plays Harrison in the series, is leaving the show and his character will not be recast.
ABC has Scandal set to return to Thursday night at 9:00 p.m. as of September 25. Scandal will air between Grey's Anatomy (8:00 p.m., Thursday) and the third Shondaland production of the evening, How To Get Away With Murder.
Your Daily Blend of Entertainment News
Thank you for signing up to CinemaBlend. You will receive a verification email shortly.
There was a problem. Please refresh the page and try again.