TNT Announces 9 Original Series For Summer, Plus 11 More In Development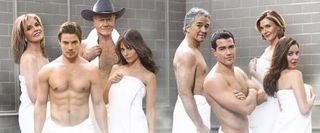 At their upfront presentations to advertisers, most networks try to focus on how most things are going to stay the same, unveiling a handful of new shows alongside their existing hits and talking about smooth transitions. Not so for TBS and TNT, which ahead of their upfront later today promised "a major transformation over the next two years," with plans to expand from "linear television networks into branded video destinations." That all sounds very jargony, and it is, but what it boils down to is what their strategy has been for the past few years: create original programming, beef it up with re-runs of shows everybody already loves, and have the kind of strong online presence you're required to have to keep up these days.
As for the new programming, they didn't announce a full schedule like the other networks, but confirmed both the new and returning series coming within the next year, as well as seven other scripted series currently in development for TNT, with big names like Tom Clancy, Steven Bochco, Michael Bay and David Baldacci attached. At TBS they're planning to debut two scripted comedy series this summer, Men at Work and Sullivan & Son, with Band scheduled for later this year and of course Cougar Town, recently rescued from ABC, coming in 2013.
Below is the list of the new shows scheduled for TNT, as well as the shows in development. Let us know which ones you're looking forward to!
Staff Writer at CinemaBlend
Your Daily Blend of Entertainment News
Thank you for signing up to CinemaBlend. You will receive a verification email shortly.
There was a problem. Please refresh the page and try again.