Insider Explains Why Justin And Hailey Bieber Haven't Opened Up About The Alleged Selena Gomez Drama
Here's why the couple reportedly hasn't commented.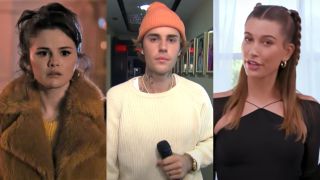 (Image credit: Hulu/NBC/YouTube)
As the rumors continue to swirl about the alleged feud between Hailey Bieber and Selena Gomez, many have wondered what Justin Bieber thinks about these reported problems between his wife and ex. However, the pop star and his partner are keeping quiet about everything going on, and an insider explained why they haven't opened up about it.
Last month it seemed like there could be trouble brewing between Hailey Bieber and Selena Gomez on social media. While nothing is confirmed, people are wondering how the two women feel about each other and if this feud is real. However, according to ET, an insider explained that Hailey and Justin Bieber are choosing to not speak publicly about the reported drama, and are "supporting each other privately."
Both pirates have been pretty quiet after the alleged drama became highly publicized last month. It all started with Hailey Bieber posting a video where she pretended to gag when Taylor Swift was mentioned, and Selena Gomez came to the "Anti-Hero" singer's defense. Then people really started to believe in the drama between the two when people theorized that Hailey Bieber and Kylie Jenner made fun of Gomez's eyebrows in a TikTok. However, The Kardashians star was quick to dispel the rumors saying there was "no shade towards Selena ever."
Amid all this talk, Gomez seemingly responded to the alleged drama after commenting on a video that was analyzing a TikTok Hailey Beiber posted and quickly deleted, because people thought was about the Only Murders in the Building star. She said she doesn't let "these things" get her down, and then temporarily deactivated her TikTok.
Like Hailey and Justin Bieber, Gomez is also seemingly keeping to herself amid all these feud rumors. The source explained to ET that:
We know that Gomez has been spending a lot of quality time with her family in her downtime, as she took a trip to Texas recently to spend time with them. She's also been keeping us posted on Only Murders in the Building Season 3 (which should appear sometime on the 2023 TV schedule) by posting photos of her and her co-stars including the latest addition Jesse Williams.
While the Biebers and Gomez have kept quiet about the whole situation, there's a lot of noise online and people are picking sides, and getting mad on behalf of one of the two women. For example, one TikTok went viral of a crowd screaming "fuck Hailey Bieber," and on the other side, a stylist who worked with Justin Bieber's wife defended their "hate" post about Gomez after it got flagged. So, while the two women and Justin Bieber haven't directly said anything about the drama, there are many people who have picked the side they want to be on.
It seems like Justin and Hailey Bieber as well as Selena Gomez are just trying to get past this influx of attention regarding all this alleged drama by keeping to themselves and focusing on work, rather than fueling the rumor mill surrounding them.
Your Daily Blend of Entertainment News
Riley Utley is a Weekend Editor at CinemaBlend. She spent many years working in local journalism across the country writing about art, news and sports. One of her favorite films is When Harry Met Sally and she walks around constantly quoting Ted Lasso.