Move Over Uggs, There's A Wild New Red Boot Celebs Are Wearing To Super Bowl After Parties And More
These boots are a...statement.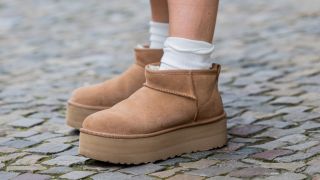 (Image credit: Photo by Christian Vierig/Getty Images)
Janelle Monáe, Lil Wayne and many others have been seen rocking a pair of big red boots all over the place, including a Super Bowl afterparty, and now they're taking over the internet. These boots, which look like they are made for an animated character to wear, have become a sensation, so move over Uggs, there's a new boot in town.
These big red boots are made by MSCHF, a collective based in New York that is known for "trolling consumer culture" as NYT explained. However, the article noted that the company said these boots are no joke. They are expected to drop later this month and will cost $350, but many influencers and celebs have gotten their hands on the Big Red Boots early, and they are wearing them all over the place. Like Rich the Kid, who rocked the shoes that he called "Clifford steppers" to Drake's Super Bowl after party, he posted the fit on Instagram, check it out:
I must admit, while I think these boots are a bit silly, they did fit the vibe set by Rihanna's Super Bowl Halftime Show with the bright red and puffy look. Not only did Rich the Kid show up to celebrate the biggest football game on the 2023 TV schedule, he also came in style by rocking these Big Red Boots.
Lil Wayne rocked the boots during fashion week, he styled the massive red boots with yellow and black pinstripe shorts and an oversized white button-down. While it's not a look I would have picked, it for sure stands out, and it goes along with this up-in-coming trend.
Janelle Monáe put the $350 boots functionality to the test by posting a video playing basketball in them. She was seen wearing the boots while preparing to play in the 2023 Celebrity All-Star Game. I gotta say, she is moving in those boots. Also, considering Monáe's tendency to constantly push the envelope with her fashion, I can't say I'm shocked to see the Glass Onion cast member thriving in these boots during her warm-up.
It's not just celebrities who are getting early access to the Big Red Boots, influencers are too, like the grandfather/grandson duo jaadiee. One TikTok from them shows the grandfather styling a bunch of different fits around the Big Red Boots. And let me tell you people are loving it! The video has over 13 million likes and over 94 million views, check it out:
It will be interesting to see if these Big Red Boots stick around and become a major trend after they are released to the public. I know there are many other celebs out there who would probably love to rock the boots. I'd assume Megan Fox, who is currently wearing a bright pink wrist brace, would absolutely rock these boots. I could also totally see Machine Gun Kelly wanting to add these boots to his wardrobe, considering the rocker's edgy fashion, and passion to defend it by clapping back at viewers who bash his looks.
However, these boots aren't for everyone. While Florence Pugh has fearlessly worn sheer bright pink dresses, I'd assume she would not be seen wearing these bright red boots, although that would be quite a sight. While she and Fox share a sense of fashion from time to time and are both extremely fashion-forward, these boots aren't something I could see celebs like the Don't Worry Darling star rocking.
Overall, these boots are making an impression on the internet, and it will be interesting if they jump up to being a trend or get stomped out because people think they're a bit too absurd.
Your Daily Blend of Entertainment News
Riley Utley is a Weekend Editor at CinemaBlend. She spent many years working in local journalism across the country writing about art, news and sports. One of her favorite films is When Harry Met Sally and she walks around constantly quoting Ted Lasso.