Plans For King Charles' Coronation Just Leaked, And There's Not Good News For Prince Harry And Meghan Markle
This isn't great news for the Duke and Duchess of Sussex.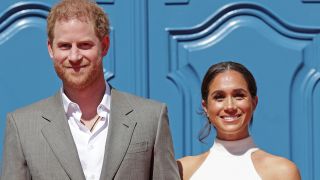 (Image credit: (Photo by Chris Jackson/Getty Images for Invictus Games Dusseldorf 2023))
Prince Harry and Meghan Markles' attendance at King Charles' coronation is proving to be quite a complex issue. While the couple has been invited to the event, there are seemingly a lot of stipulations in place, not to mention there's also been drama surrounding the couple's eviction from their house in the UK. Now, things are allegedly getting murkier between the couple and their family, as the plans leaked for the procession, and the Duke and Duchess of Sussex are not included in them.
The rehearsal plans for the upcoming coronation were leaked, and reported by The Times of London, via Deadline. Allegedly the procession plans reveal that while Prince Harry and Meghan Markle have been invited to the ceremony, they don't have a place in the king's procession that will follow his crowning.
These leaked plans also alleged that the King's brother, Prince Andrew, and his kids Princesses Beatrice and Eugenie will also not be included in the procession.
The article also explains that this coronation procession is expected to be a third of the size that Queen Elizabeth's procession was in 1953. It's expected that "working royals only" will be included in the procession, which reportedly would include the King's sister Princess Royal Anne and her husband Vice Admiral Sir Timothy Laurence, his brother Prince Edward and his family, who have the new titles of the Duke and Duchess of Edinburgh, as well as other cousins.
King Charles' eldest son, Prince William and his wife Kate Middleton will also reportedly be in the procession along with all of their kids, which is different from the Queen's funeral because Louis was considered too young to be in the procession.
While Prince and Princess of Wales' kids will reportedly be in the procession, Meghan and Harry's children allegedly haven't even been invited to the coronation. This rumor goes along with the reported stipulations that have been set for the Duke and Duchess of Sussex if they decide to attend. Along with not being able to allegedly walk with the procession, they probably won't be able to make anything more than small talk with senior royals and they likely won't appear on the palace balcony with the rest of the family.
Along with this news about Meghan and Harry not being included in the procession, they've also been evicted from Frogmore Cottage. However, like their coronation invite, this is a complex situation that is both bad and good news. The couple is reportedly being offered a room in Buckingham Palace, which would allegedly be ideal for them, while Prince Andrew is being downgraded from his current residence to Frogmore Cottage.
Overall, the latest news about Prince Harry and Meghan Markle being excluded from the procession seems to add more fuel to the fire that they might be getting close to "exile." However, like their living situation, there may be more to this. We also don't even know if the couple will travel across the pond for the event, which seems to give them a slight upper hand, since the decision to attend is up to them, not the king.
As the coronation approaches on the 2023 TV schedule it'll be interesting to if the Duke and Duchess of Sussex decided to attend the coronation. If they do, it seems like they will not be standing with the senior royals at any point, which seems to amplify the tension between Prince Harry and his family.
Your Daily Blend of Entertainment News
Riley Utley is a Weekend Editor at CinemaBlend. She spent many years working in local journalism across the country writing about art, news and sports. One of her favorite films is When Harry Met Sally and she walks around constantly quoting Ted Lasso.