How Trade Will Work In No Man's Sky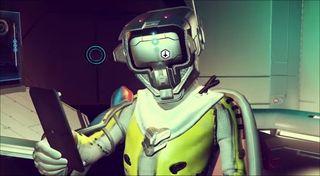 A new trailer for No Man's Sky breaks down how trading works and giving gamers a clue about the process of trading. It's both easy and complex given the structure of No Man's Sky, but the trailer manages to showcase some interesting items within the span of a minute.
Game Informer picked up the latest trailer after it was posted to various YouTube channels, including the PlayStation channel.
The video makes sure it highlights all of the necessary steps to successfully trade within the span of just a minute. We see that the player character lands on a planet in No Man's Sky, hops out, uses their ray gun to gather some of the planet's local plant life and then fly off to a space station across the galaxy. Once the player reaches the station, they attempt to offload some of the rare materials and resources they picked up from the planet.
Different resources will be worth different values, so it's up to players to determine what they want to pick up, how much they want to pick up and how far they're willing to travel to sell it. Of course, trading stations that don't have certain resources on hand will likely want to replenish or add to their stock if you've come from far away to sell them super rare stuff. Hence, it's probably best to travel further out to sell goods to traders so you can get the best prices for them.
The trading system in No Man's Sky could prove to be an interesting element, as players will need to make the most use of it for some items they may not be able to acquire easily on their own. The trailer briefly and quickly skips through various rare weapons and materials that could help aid players during their journeys in _No Man's Sky. _
One of the more interesting things is that the weapons look a little bit like they come right out of Gearbox Software's Borderlands, which is not a bad thing for anyone who loves them some sci-fi weaponry. We see a pistol with a light hook on the undercarriage on display in a case, along with various other items.
It's not all about the weaponry, though. Trading also consists of finding and upgrading other items as well. We see some machinery that needs to be repaired by playing a small mini-game, or the kind of items that can be stored in the inventory or upgraded to help improve travel and exploration in No Man's Sky. For instance, we see a Protection Mesh that helps protect your suit during exploration, along with an item that helps with breathing oxygen under certain conditions.
For those of you wondering why some of these non-weapon items might be necessary, it's because different planets have different weather conditions, and surviving on them can be harsh and unforgiving, thus players are required to upgrade their suit, upgrade their ship, and upgrade their weapons to handle some of the harsh atmospheric conditions they'll encounter throughout No Man's Sky, and trading in resources to get one's hands on some of those necessary items will be imperative for progressing through the game.
No Man's Sky is due for release on August 9 for the PS4 and PC.
Your Daily Blend of Entertainment News
Staff Writer at CinemaBlend.