Here's Where You Can Watch Your Favorite Video Game Soundtracks Performed Live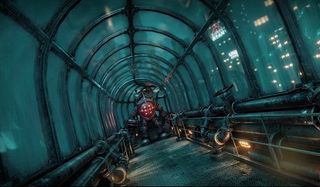 If you've ever wanted to hear some of your favorite scores from games like Bioshock and Fallout 4 played live, then you'll want to get yourself to Los Angeles at the end of the month for a special concert featuring orchestral performances of tunes from those games and others.
The Los Angeles Jewish Symphony is gearing up for a big show on Aug. 21, one that shows just how far video games have come in terms of the sound and scope of their soundtracks. Game soundtracks haven't been beeps and boops for a long time, but in recent years some of the songs written for big games have earned huge recognition and awards. Games like Civilization, Red Dead Redemption and Journey, just to name a few, have gone on to earn accolades outside of the games industry, helping remind people that said industry has done quite a bit of growing up over the years.
The Aug. 21 show is called "Let's Play LA," and it will feature music from Jewish composers from the areas of both film and video games. On the gaming side, Bioshock composer Gary Schyman and Fallout 4 composer Inon Zur, seen below, have already been confirmed as headlining acts.
For those of you who will be in the LA area during the concert, tickets can be purchased at Ticketsage.net for some pretty reasonable prices. Tier 3 seats are going for just $28, with Tier 2 at #38 and Tier 1 at $48. The show itself will be held in the Ford Theatres beginning 7:30 p.m.
We love seeing this, and we'd love to see a heck of a lot more shows like this making their way around the country. Anyone who has attended a Video Games Live performance knows that there's something special about hearing songs from series like Final Fantasy, Elder Scrolls, The Legend of Zelda and beyond played by an entire orchestra. It's definitely not a bad way to spend an evening.
It's kind of neat that gaming music, especially played live, is starting to earn more attention these days. At one of Nintendo's final E3 press conferences they had an orchestra play throughout the entire show. The Game Awards have been known to bring on special musical performances pulled directly from games too, rather than having some random pop star sing a song to "get the crowd pumped." At this year's Sony E3 press conference, Team S took a page out of Nintendo's book, having a live orchestra provide the soundtrack to the new God of War trailer and everything that followed.
It's probably going to be a while before we can all have an orchestra provide the soundtrack while we play our games but, in the meantime, shows like this upcoming performance in LA will just have to do.
Your Daily Blend of Entertainment News
Staff Writer for CinemaBlend.
Your Daily Blend of Entertainment News
Thank you for signing up to CinemaBlend. You will receive a verification email shortly.
There was a problem. Please refresh the page and try again.