Quantum Break Is Getting A Collector's Edition, Get The Details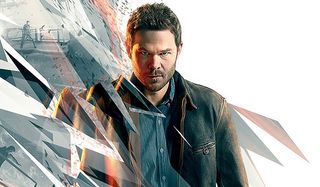 In case you missed out on the release of Quantum Break earlier this year, a Special Edition of the game is heading to PC next month. Get ready to bend time and break rules.
Quantum Break Special Edition is heading to PC on Sept. 14, according to Xbox Wire (opens in new tab), with this enhanced version of the game being made available at retail as well as digitally through Steam for the first time.
While the digital version is all well and good, folks who like collectables will want to pick up the physical copy, as it comes with some additional goodies sure to tickle fans' fancy.
Here's all of the Quantum Break goodness you'll get for $39.99:
-Premium packaging
-5 game discs (one-time Steam redemption required)
-Making of Blu-ray
-Making of book
-Soundtrack CD
-Two posters
-Quickstart guide
Not a bad little bundle for 40 bucks, especially since the standard edition of Quantum Break isn't all that long in the tooth yet. But since the game was originally exclusive to Xbox One and the Windows Store, it's nice to see that the Collector's Edition will get Quantum Break into the hands of even more players on the PC.
The PC version of Quantum Break is being handled by Nordic Games. Originally developed by Remedy, the folks responsible for the 2012 hit Alan Wake, Quantum Break's PC transition is being orchestrated by a team that's gotten pretty used to the task at this point. Nordic actually worked with Remedy on the PC port of Alan Wake, too, as well as Microsoft Studios' games Ori and the Blind Forest: Definitive Edition and State of Decay: Year One Survival Edition.
If you've played those games on the PC and enjoyed yourself, then you pretty much know what to expect out of this latest version of Quantum Break.
As for the game itself, Quantum Break is a unique offering, blending gameplay with episodic video content that helps round out the story. As for said story, it revolves around a cast of character who find themselves somewhat lost in time. After an unfortunate explosion, the antagonist decides to start traipsing through time in order to bend it to their will, while the player must work to stop them and fix time before it's torn apart completely.
As is popular these days, your choices in the game will have an impact on how the narrative unfolds, so don't make hasty decisions while working your way through Quantum Break.
For those of you who picked the game up on the Xbox One, let us know your thoughts on Quantum Break in the comments section below.
Staff Writer for CinemaBlend.
Your Daily Blend of Entertainment News
Thank you for signing up to CinemaBlend. You will receive a verification email shortly.
There was a problem. Please refresh the page and try again.