Disney Just Shut Down Two Of Its Marvel Games, Get The Details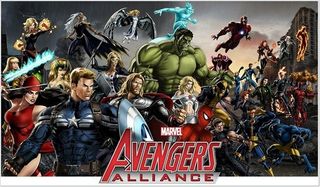 There are about to be a few less superheroes in this world, as Disney Interactive has announced the imminent shutdown of a pair of games featuring Captain America, Iron-Man and the rest of the Marvel universe.
Thankfully, you folks coming on consoles and PC can breathe a sigh of relief, as it looks like Disney has their eyes set solely on the mobile market at this time. Okay, well, one of them is playable on Facebook too but, come on, does that really count as a PC game?
Anyway, if you're a fan of Marvel: Avengers Alliance or Marvel: Avengers Alliance 2, we've got some bad news for you. According to the announcement direct from the home of Mickey Mouse, both of those games are offline as of today, Sept. 2, across all platforms. Said platforms include the App Store, Google Play, the Amazon Appstore, the Windows Phone Store and, in the case of Avengers Alliance, even Facebook.
Those games can no longer be purchased on any of those platforms and, while they're still running right now for folks who own the games, that won't be the case for much longer. If you enjoy running around as Thor, The Hulk, Falcon or any of the other heroes featured in those games, then you'll need to get in all of your crime busting ASAP, as the games will no longer function as of Sept. 30 of this year.
Kind of a bummer, but we assume the games are being shut down due to the fact that, you know, folks aren't playing them as much. Disney Interactive also has a lot of games on their mobile plate, so it makes sense they'd want to phase out these older titles. Plus, hey, who's to say a new version of Avengers Alliance won't take their place?
Whether a new iteration is inbound or not, we're sure at least a few mobile gamers will be disappointed by this news. But this brings up an even more interesting question: Do people still play games on Facebook? I mean, I know there was a while there where Facebook gaming was all the rage. Games like Farmville and Candy Crush were huge for Facebook fans, and even properties like Dragon Age got in on the craze. But those days have passed and, truthfully, I didn't know Facebook was even considered a platform anymore. Maybe it's because everyone finally stopped sending me those damn invites every three hours.
Anyway, if you're still jonesing for Marvel goodness on the go, there are plenty of other games featuring caped crusaders that you could use to occupy your time instead of Avengers Alliance. Just search for the word "Marvel" and take your pick of a brand new mobile romp.
Your Daily Blend of Entertainment News
Staff Writer for CinemaBlend.
Your Daily Blend of Entertainment News
Thank you for signing up to CinemaBlend. You will receive a verification email shortly.
There was a problem. Please refresh the page and try again.