Goat Simulator's Developer Is Making A Game With PewDiePie, No, Really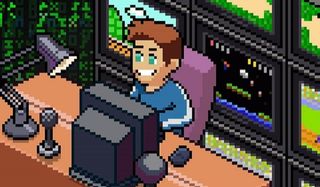 After wrapping work on Tuber Simulator, Youtube sensation PewDiePie's Revelmode and Maker Studios look to have another hit on their hands. And with Goat Simulartor's Armin Ibrisagic inking a multi-game deal with Mr. Pie, it looks like even more hits could be on the way.
Our first reaction to this news was, "wait, what now?" But the more we think about it, the more it makes a heck of a lot of sense for all parties involved.
Pewdiepie made his fortune streaming games content on Youtube and, let's face it, nobody knows how long that sort of notoriety can last; it's uncharted waters. So it makes since that Mr. Pie would be branching out, finding new opportunities and striking while the iron is hot.
Armin Ibrisagic's current claim to fame is Goat Simulator, a game that lets you run around as the titular creature and cause all sorts of havoc. He runs a small team that could probably benefit from a partnership like this one, giving their next game a little extra oomph off of its name alone.
And speaking of the name, the game is called Pewdiepie's Tuber Simulator, and it's actually already available. It appears to be doing well on both iOS and Android, so that's even better news from whatever comes out of this new game deal between Revelmode and Ibrisagic's crew.
As for Tuber Simulator, it's a mobile romp that, according to Variety, launched this past Thursday. According to the free-to-play title's description, players will take on the role of a would-be Youtube sensation. You'll take part in activities, make decisions and purchase new equipment to better your channel, with the ultimate goal being to turn yourself into an icon that can rival even PewDiePie himself. Did we mention you can buy clothes for your in-game pets? Because you can.
Obviously, in-game purchases will allow you to progress more quickly and earn special bonuses but, like all free-to-play games, you can stick to the gratis model and just grind out your success. That second option is probably a more realistic representation of trying to become a Youtube star.
You can grab it now on iOS or Android devices, if you feel so inclined.
This is actually the second game Pie has been involved with, as his Legend of the Brofist launched just last year. It did pretty well for itself, which is probably why the guy has decided to keep working with game development while simultaneously making lots and lots of Youtube videos about them.
Your Daily Blend of Entertainment News
Staff Writer for CinemaBlend.