Crash Bandicoot Is On TV, Get The Details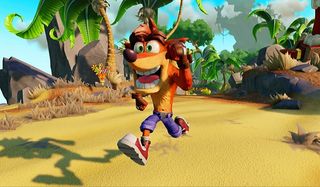 Crash Bandicoot has crash landed on television and, just like his most recent games outing, it's not exactly what we were expecting. For starters, the spin-happy critter can actually talk.
If you grew up in the 90's, it's likely you're throwing a "Well, actually..." my way right about now. Yes, I recall the Crash Bandicoot mascot taunting Nintendo in all of those PlayStation commercials back in the day but, as far as an official voice for the character goes within his games, he wasn't exactly a chatty dude.
But it turns out that's not the case in his television debut, appearing as a guest character in the Netflix original series Skylanders Academy. This actually makes a heck of a lot of sense, as Crash Bandicoot also had a guest spot in Skylanders Imaginators earlier this year. When word got out that Crash was going to make an appearance at E3 this year, many old-school fans got excited for the possible announcement of a new game. When it turned out he was just going to cameo in another series, some were disappointed. But hey, appearing in both the new Skylanders game and Netflix show, maybe that means the guy is simply gearing up for a proper comeback.
The folks over at Gamespot recently stumbled upon a Youtube clip from user pix pinguino, who seems to be really into Crash. The clip shows off a bit of Crash Bandicoot's adventure in the Netflix show, focusing on the fact that he actually talks.
In the clip, Crash talks about having more trouble with Dr. Cortex before he got sucked into the Skylanders world. When he jumps into action in an "extreme rescue mission," one of the characters even cleverly points out that there's a mysterious theme song playing in the background. It makes me kind of want to watch the full episode, and since the whole series is available on Netflix that's certainly an option. If you wish to do the same, you'll find "Crash Landing" is the 11th episode in the series.
We had completely lost track of Activision Blizzard Studios' television and movie plans until this latest piece of news popped up. Based on the initial report and echoing last year's news, it sounds like a Call of Duty film might be their next project, though whether it's headed to theaters or another Netflix series is unclear.
We do know that the Skylanders show has now been greenlit for a second season and, with Futurama's Eric Rogers at the helm, we imagine it's one of those shows that kids and their parents can enjoy side-by-side on the couch.
If you've checked it out already, give us your thoughts in the comments below.
Your Daily Blend of Entertainment News
Staff Writer for CinemaBlend.