Abandon Ship Brings Roguelike Adventure To The High Seas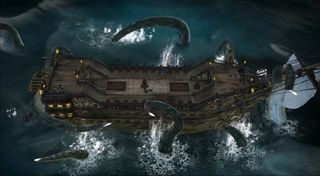 Fireblade Software recently announced a single-player, seafaring adventure game called Abandon Ship. It's a gorgeous new naval title themed around light-fantasy adventures on the high seas, where players will face off against other vessels and even mammoth creatures from the deep.
Abandon Ship was announced through a trailer on the official YouTube channel. It's a really neat trailer clocking in at just under two minutes, and features some awesome naval battles. We see the player's ship will take on other ships in the age of sail era, using cannon balls for artillery, and the wind for mobility. The game is very similar in some regards to other seafaring titles such as Pirates of the Burning Sea and Pirates of New Horizons, both of which also feature similar ship-to-ship naval battles.
The first minute of the trailer focuses mostly on players navigating through a world that utilizes procedural generation, which means that players will have a different experience every time they start a new playthrough, similar to building or generating a new world in Minecraft or Terraria.
After the minute mark, we then get to see some very unique elements of the game, such as the Kraken which pops up from under water and begins to wreck the ship. It's not clear how players are supposed to battle such mythological beasts of old, but I'm assuming there would be some sort of defensive measure at play to keep the monsters at bay.
And speaking of wrecking ships, the game utilizes some impressive damage models, not unlike Assassin's Creed III and Assassin's Creed IV, which saw various parts of a damaged ship reflect that upon impact. The naval features in those games was probably one of the very best mechanics that Ubisoft added to a series in a long time. "Epic" seems like a bit of an understatement when describing those modes.
In Abandon Ship, they seem to be channeling a similar sense of urgency and danger during the combat, which appears to take place in both short range and long range situations. We also see things like grappling hooks being used to reel ships in close together for ramming purposes, and the ability to target specific parts on a ship like the sails.
One really neat thing about this upcoming title is that losing your ship doesn't result in the game being over. The game doesn't end until your Captain is dead. It's a neat mechanic because it means so long as you can survive, you can live on to loot and pillage another day.
But if your Captain dies while in combat, then death is permanent and you'll have to start the game over. Another cool aspect is that Fireblade has employed an oil painting art-style, so it looks like you're moving through an actual, 17th century-inspired naval oil painting. Really cool stuff.
You can look for Abandon Ship to launch on PC in 2017 and you can learn more by visiting the Steam page.
Your Daily Blend of Entertainment News
Staff Writer at CinemaBlend.