Gears Of War Is Celebrating Its 10-Year Anniversary In A Big Way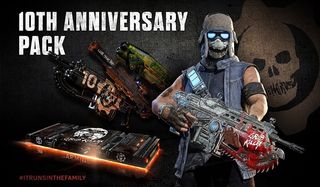 It may be hard to believe, but Gears of War is gearing up to celebrate its 10th anniversary next week. To celebrate, Microsoft has announced a whole bunch of special promotions, including new gear, new playlists, some tweaks to some in-game systems and even the return of a beloved bloodline.
Starting next week, Gears of War 4 players will be able to get their hands on the Tenth Anniversary Gear Pack in Gears of War 4. This is only the first prong of what Microsoft is calling a "10 Years of Gears" event, and it's a whole bunch of free DLC featuring the Carmine family.
There's been a running joke in the Gears of War games wherein the member of the Carmine family typically meets an unfortunate end. It all started with Gary Carmine and spread to his similarly doomed siblings. To celebrate Gears' long-running history, the Gear Pack we just referenced will introduce some special weapons and emblems into the game, which you can find the full list of below.
If you want to get this gear, you'll have to play the game. Packs will cost 200 Credits and each will include a customization item, an emblem or bounty, and a random Gears Card. So just get in some matches, earn points, and don't forget to spend them on these special "10 Years" packs. The DLC goes live tomorrow, Nov. 7, the official 10 year anniversary of the first Gears of War.
There's even a fun trailer celebrating the many ways Gary Carmine can be dispatched once he's unlocked.
But that's not everything included in this 10-year anniversary event. A couple of new playlists will also be added to Gears 4 this week, including One Shot, One Kill and Gnashers-Only King of the Hill. The latter is self-explanatory, while the first will spawn all players with a single Longhsot with an Embar sniper rifle hidden on the map.
There will also be some community events surrounding Gears' birthday, but Microsoft is keeping a zipped lip on those until later in the week.
The final piece of the puzzle are some in-game tweaks for Gears 4 that should make earning credits less of a pain. In short, Microsoft wants players to have more ways to earn their customization items, as well as more Credits being dropped upon match completion. The same goes for Bounties which, following the update, will give players more XP and Credits than before.
Your Daily Blend of Entertainment News
Staff Writer for CinemaBlend.