The Kojima Productions Logo Is Becoming An Insanely Expensive Collectable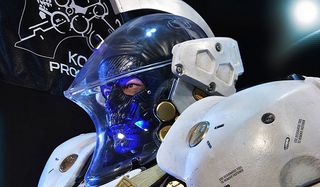 If there's one thing we know about Hideo Kojima, it's that the guy loves video game stories that are street-rat crazy and full of bizarre characters. But if there are two things we know about the guy, the second one is that he absolutely loves collectibles. We imagine that's why a limited number of replicas are being made of his new studio mascot and, if you want one, it's going to cost you a pretty penny.
We'll do our best not to sound too much like a QVC segment here, but "Ludens," the new mascot of Kojima Productions, can be yours (opens in new tab) for the small fee of just $1,999.99, or just a montly payment plan of as little as $225 a month. Limited to just 150 being made, Ludens comes in his space suit that looks a little bit like a knight's suit of armor, complete with a flag in hand and the Kojima Productions logo flapping in the non-existent breeze.
This bad boy is built to half scale, measuring 62.59 inches tall. What makes him so expensive is the meticulous attention to detail and the fact that the bits and bobs are real. The canvas straps, for example, are real canvas while the bolts are real metal.
However, even if you're willing to fork over two grand for this Sideshow exclusive made by Prime 1 Studio, you're going to be waiting a while to actually get your hands on it. While you can pre-order Ludens right now, he isn't expected to be ready for delivery for another year, with an expected ship date between January and March of 2018. But, hey, at least you'll have him fully paid off by the time he arrives.
In case you're confused by all this talk of mascots, Kojima is one of those guys who was probably sketching band logos on his school notebooks long before ever actually trying to form a band. When he split from Konami and made his own studio, one of the first pieces of news to come from the guy was a look at his new company logo, the skull-knight side view with Kojima Productions under it. That's all well and good. A studio needs a logo, right? Well, after he revealed the logo, he revealed an animated short that shows off Luden in all of his glory. After that, he had a full-sized statue of the thing made for his new office. For a while there, it felt like Kojima was putting more time into his mascot than he was his next game, Death Stranding. Then again, we would expect no less from the brilliant yet crazy mind behind the Metal Gear series.
Now you too can own a Ludens of your very own. Better get to saving.
Your Daily Blend of Entertainment News
Staff Writer for CinemaBlend.
Your Daily Blend of Entertainment News
Thank you for signing up to CinemaBlend. You will receive a verification email shortly.
There was a problem. Please refresh the page and try again.