Mad Catz Has Filed For Bankruptcy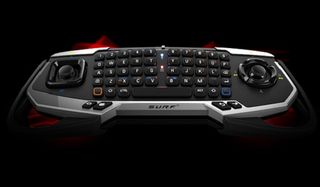 Mad Catz Interactive, long-time developer of console and PC gaming peripherals, has filed for bankruptcy, with all operations ceasing as of this week.
The announcement went live via Nasdaq this morning, March 31. According to the release, Mad Catz Interactive, the parent company of Mad Catz, is basically no more as of this writing. The company voluntarily filed for bankruptcy just yesterday, with operations ceasing at that time. The two branches of MCI that gamers will be most familiar with are Tritton and Mad Catz. The former produces audio gear while the latter makes everything from specialized keyboards and mice for PC gaming, to controllers and all sorts of cases and accessories for console gaming. We'd argue there's a pretty good chance just about every gamer has purchased at least one Mad Catz peripheral over the years, be it a hardcase to carry your 3DS around in or a specialized guitar controller for Rock Band. Heck, I had a Mad Catz PS2 controller back in the day that actually cooled your hands while you played.
Apparently things haven't been going well for Mad Catz for a while. You'll need to be comfortable with some light legalese if you want to weed through the announcement yourself but, in part, it sounds like they've seen this coming for a while now.
Back in 2016, the Board of Directors formed a committee specifically tasked with coming up with new ways to "maximize shareholder value," including the potential sale of the company. A financial advisor was hired in conjunction with this move, so they certainly did some homework before just deciding to close up shop.
After considering various alternatives, the Board apparently decided that voluntarily filing for bankruptcy was the way to go. As a result, Mad Catz ceased operations immediately, the various branches are in the process of liquidating their assets and all of the company's directors and officers have resigned as of yesterday.
In other words, this wasn't one of those "file for bankruptcy and then figure out how to limp along" moves but a complete and total shutdown.
According to CEO and President Karen McGinnis, the company considered everything from financing alternatives to potentially selling the company altogether. None of those turned up feasible alternatives, hence the decision to shutter the company. In a brief statement, McGinnis thanked all of the company's employees, as well as vendors and service providers that have supported Mad Catz over the years.
It's a bummer to see Mad Catz go, but there's no denying their place in the world of gaming. We'd be interested in hearing if any of our readers have any Mad Catz products they swear by. Share the details in the comments below.
Your Daily Blend of Entertainment News
Staff Writer for CinemaBlend.