Disney Infinity Developer Unveils Cars 3: Driven To Win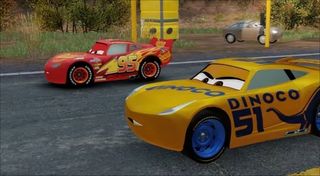 Disney has officially unveiled the video game version of Cars 3: Driven To Win courtesy of the same developers behind Disney Infinity, Avalanche Software. The new Cars game is being published by Warner Bros. Interactive Entertainment.
The trailer was posted up over on the official Xbox YouTube channel. It features just 56 seconds of actual in-game play for Avalanche Software's upcoming title.
It starts off with a look at Lightning McQueen and Cruz Ramirez on the streets, presumably prepping to race against each other along with a line-up of other cars. What doesn't make sense is that in the back it looks like some other cars are driving around and going about their business. There's even a bus in the back, which completely throws me off as to what sort of race is taking place there.
Nevertheless, the Cars 3 trailer doesn't slow down. In fact, it speeds up. We see Lightning McQueen with what looks like some kind of after-market nitro boosts, blasting through a desert track, as well as a few clips of the cars tearing up the track through a variety of unique environments, one of which includes a crane obstacle moving logs back and forth across the road.
We then get to see some of the returning weapons from the previous Cars games. Ramirez takes a leap over a ramp and manages to overcome Mater during the race. However, the two vehicles end up spinning out after Ramirez makes the jump, and we get a nice clear view of two gatling guns hoisted up on the front of the yellow speedster as if it were a sports version of Batman's Batmobile.
Keep in mind that all of this takes place within the first 20 seconds of the Cars 3 trailer.
From then onward we get to see a lot of other tricks and racing gimmicks take place, including McQueen turning sideways and riding on two wheels, some jet-powered booster packs, and plenty of drifting around the turns.
We also get to see heat-seeking missiles on display, as they light up the track and help the player gain the pole position during the race. There will be over 20 different customizable characters to play, 20 different tracks to race across and six different game modes to partake in.
They don't roll out an exact release date in the trailer but they do reveal that the game is available to pre-order right now for home consoles. What's crazy is that Warner Bros. is actually publishing the game for the Wii U, still, along with the Xbox 360 and PS3. Talk about grasping for cash. The last gen systems haven't been selling so great recently, and I don't know how much of a market they'll reach with a game like Cars.
Even still, Nintendo Switch fans should be happy, considering that Cars 3: Driven to Win will be available for Nintendo's latest console when it does launch.
Staff Writer at CinemaBlend.
Your Daily Blend of Entertainment News
Thank you for signing up to CinemaBlend. You will receive a verification email shortly.
There was a problem. Please refresh the page and try again.