Minecraft Players Can Now Sell Their Creations, Get The Details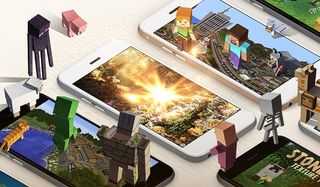 Minecraft is finally going to offer a way for players to receive compensation for the time and effort they put into crafting legendary creations. Get ready to discover the Minecraft Marketplace.
While Minecraft is available on just about every platform known to man at this point, the Marketplace will soon be launching exclusively for the Pocket (mobile) version of the game, as well as Windows 10. According to the announcement, the team is currently working with all of the other platforms to see if the Marketplace is something they have an interest in implementing.
The Minecraft Marketplace is exactly what it sounds like; a place where players can purchase community-made, as well as Microsoft made, content and then have it available in their own game. The ability to freely trade content will remain but, according to the announcement, this new feature is being implemented so that folks who make a living off of Minecraft have a fresh avenue to keep doing what they're doing.
To be clear, not everybody will be able to sell their creations across Minecraft. You'll need to have an established business and the developers will be hand-picking content they think will fit nicely on the storefront. Anyone can submit their projects for consideration if they meet the criteria, but there will definitely be an approval process.
To get things rolling, the Minecraft team has called upon popular community creators to offer the first batch of premium, homemade textures, creations, adventure maps, minigames and more. Since these items will have an actual price tag attached, we imagine they're going to be of a really high quality. As a player, you can purchase Minecraft Coins with real-world money and then pick up whichever piece of content you like. Once you do, it's available to you across all participating platforms.
We're big fans of this idea, as not many games allow players to actually enjoy a slice of the profits for their creations. While 30 percent of the purchase price will go to the Marketplace, the majority of the remainder will go to the creator, according to the announcement. Obviously, that makes creating even more impressive offerings a bigger draw, as popularity will likely drive additional sales. In other words, once again, we expect these premium pieces of content to be pretty spectacular.
What's extra cool is that it opens things up for big-time Minecraft creators who maybe aren't too fond of trying to do a YouTube series. Maybe you're just really, really good at creating adventures within Minecraft, but don't like sitting in front of a camera. Now there's a way for you to get compensated for your time and effort, too.
It'll be interesting to see how the Marketplace pans out for Minecraft and, if successful, whether or not other developers will try to implement a similar system in their own games.
Staff Writer for CinemaBlend.
Your Daily Blend of Entertainment News
Thank you for signing up to CinemaBlend. You will receive a verification email shortly.
There was a problem. Please refresh the page and try again.