New Sonic Forces Gameplay Video Looks Like The Sonic We Know And Love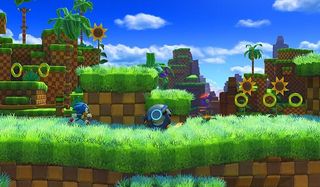 The latest footage from Sonic Forces has hit the internet, showing off the titular hedgehog in all of his 2D platforming glory. And you know what? The gameplay continues to impress us.
Sonic Forces is what we would call a risky project, but the latest videos from Sega sure make it seem like one they've taken on with great care. Most of the recent Sonic games have been rather poorly received and, yeah, that might be putting it kinda lightly. Whether the Sega mascot is cruising around in the second or third dimension, many hold that the Dreamcast Sonic Adventure games from over a decade ago were the last truly classic entries to the long-running series.
The thing about Sonic Forces is that it's looking to blend both 2D and 3D gameplay. Rather than focusing on just one of those options and trying to nail the formula, the developers have instead decided to tackle both at once.
We were skeptical at first but, now that we've seen both versions of gameplay in action, we're slowly but surely starting to let our guard down. The 3D footage released last month looked like it took the best parts of Sonic Adventure and plugged them into a modern, highly detailed world. Now we've got the above 2D gameplay to gawk at and, again, it looks like things are coming along quite nicely.
The footage went live this morning on the Sega Europe Youtube page. Other than mentioning the game's name, Sonic Forces, the title is pretty straightforward: Classic Sonic -- Green Hill Zone. And the footage certainly lives up to that name, featuring that "classic" Sonic gameplay with a slick new coat of paint and a few interesting twists.
Like all of the best 2D sonic levels, the one on display here is clearly built for both types of fans; those who like to take their time and explore and those who prefer to rocket through the level as quickly as possible. The blue blur shoots past all sorts of platforming zones and collectibles while speeding along, so we imagine these types of levels were built with multiple trips through in mind.
It wasn't until about halfway through that I realized why I found this footage to be particularly encouraging: the camera is pulled back a bit further than in most 2D Sonic games. While memory will still serve you very well on those speedy runs, a wider point of view means that reflexes and planning will also come into play more than in classic Sonic games.
So, readers, what do you think? Let us know your take on the new gameplay footage for Sonic Forces in the comments below.
Staff Writer for CinemaBlend.
Your Daily Blend of Entertainment News
Thank you for signing up to CinemaBlend. You will receive a verification email shortly.
There was a problem. Please refresh the page and try again.